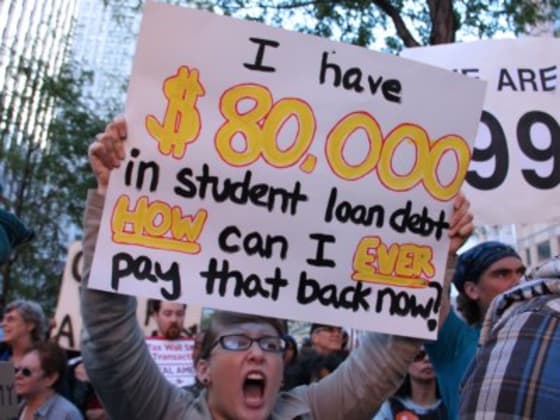 Today over a thousand students, alums and activists joined together on Twitter to advocate student loan debt relief. Specifically, they advocated for Congress to hold a hearing on HR4170, the Student Loan Forgiveness Act.
A Twitter Bomb, for those new to either twitter or the internet, is a planned time when as many people as possible will write a tweet regarding a specific issue, in order to get attention to the cause. The twitter bomb today was somewhat effective as it trended (meaning thousands of people were talking about it) for a few minutes.
The twitter bomb was planned after thousands of activists joined together to send personalized messages to the House Committee on Education and the Workforce. The group never heard back from Chairman John Kline or any other member of the committee, and the bill is still stalled in committee. The goal of the bomb was to get the bill a hearing. So, far Representative Hansen Clarke is the only politician to the mass amounts of tweets sent their way. He said:
Thanks @bobbyapples @LoanReformNow @OccupyColleges for supporting #HR4170! #ListenToTheMillion and cut student loan debt to create jobs. — Rep. Hansen Clarke (@RepHansenClarke) July 11, 2012
And here are some of the top tweets from the event:
Students across Twitter are calling for student loan forgiveness. Join them here: docs.google.com/document/d/1cl… #ListenToTheMillion — Rebuild the Dream (@RebuildDream) July 11, 2012
@AskGeorge Took 50K in loans, paid 25K. I still owe 75K! FIX THIS! We need Student Loan Relief NOW! hr4170.com #ListenToTheMillion — Daniel Manus (@DannyManus) July 11, 2012
The 'golden age of capitalism' coincides with the growth of accessible higher education.Think about it @TGowdySC #HR4170 #ListenToTheMillion — Hope (@nwbtcw) July 11, 2012
Students and activists claim that student loan debt has gotten out of control, and forgiving the loans would stimulate the economy. Since 1980 the average tuition of a 4-year college degree has increased 827%. Since 1999, the average student loan debt has increased 511%.
In 2010, for the first time in American history, the total outstanding student loan debt exceeded the total outstanding credit card debt. For this year, the total outstanding student loan debt is expected to exceed $1 trillion. This is of course on top of a limited job market, with the highest group of unemployed citizens being in the 25-35 age range. It is almost impossible for people to pay off their student loans, and as Alternet reported on July 4, suicide and depression are the most serious effects of the crushing "debt sentence" of a higher education.