Credit: boston.com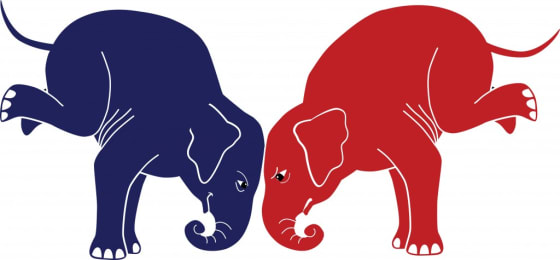 This year, Proposition 14 was tested for the first time in California's open primaries. The two candidates with the most votes were chosen regardless of party affiliation to compete in the November election. For the first time, candidates from the same major party will have to compete for votes in the general election.
While there is still an overwhelming amount of Republicans vs. Democrats in the top two positions, there are six districts in California where the top two candidates are both affiliated with the Republican Party.
The importance of an open primary is highlighted in cases such as this, as well as cases of an Independent candidate winning. Open primaries ensure Democrats a voice in districts that are predominantly Republican because it becomes a candidate race rather than a partisan race. Now that these two republican candidates have pulled through, they will need to compromise with democrats and independents in the district to ensure victory in the November round.
The race for CD-8 and CD-31 ended in a Republican vs. Republican battle. The contentious District 8 race was comprised of two Democrats, 10 Republicans and one No-Party Preference candidate. Foster Parent, Homebuilder, "True Love Waits" Pioneer and Campaign Manager Gregg Imus took the lead with 12,343 votes, giving him 15.4%. Colonel Paul Cook, a retired marine, was seated second with 12,237 votes and 15.3%. A split vote resulting in neither of the top two candidates receiving more than 15% of the vote means both will be tasked with appealing to the broader electorate for November.
CD-31 had fewer candidates but the surprising resulting of splitting votes made national headlines. Because six Democrats were competing versus only two Republicans running, the two Republicans secured the highest number of votes. Incumbent candidate Gary G. Miller came in first with 16,319 votes and 26.8%. Bob Dutton was second in the race with 15,210 votes and 25.0%. Dutton has served on legislature for 9 years, as well as on the board of numerous community and civic organizations.
In the race for State Senate there were no results where two Republicans obtained the top two seats. There were stillresults with two Democrats, or a Republican/Democrat and an Independent pulling through to the November round.
Races for State Assembly showed a stronger preference for Republicans with a total of four districts out of 80 voting Republican for the top two candidates. AD-5 was the first, with two Democrats, three Republicans and one Independent candidate completing the race. Entrepreneur Rico Oller was the winner with 28,533 votes and 33.4%. Frank Bigelow, the Vice president of Ponderosa Phone line, came in second with 24,660 and 28.9%.
The AD-23 race included one Democrat and four Republicans. The former mayor of Fresno, Jim Patterson took the lead with 18,174 and 39.1%.  Bob Whalen, known as a "non nonsense fiscal conservative" came in second with 11,367votes and 24.5%.
AD-67 was a completely Republican race with five candidates. Phil Paule was first with 9,438votes and 28.0% and is Vice-President of the Board of Directors of the Eastern Municipal Water District in Riverside County. Ohio native and Lake Elsinore Mayor, Melissa Melendez was the second place candidate with 7,851 votes and 23.3%.
AD-72's race comprised of two Democrats and three Republicans. Troy Edgar, who is a business owner, United States Navy Veteran, and management consultant advising Fortune 500 companies, took the lead with 15,824 votes and 28.3% Small Buisness owner Travis Allen was second with 11,114 votes and 19.9%.