An interior wall of Craft and Commerce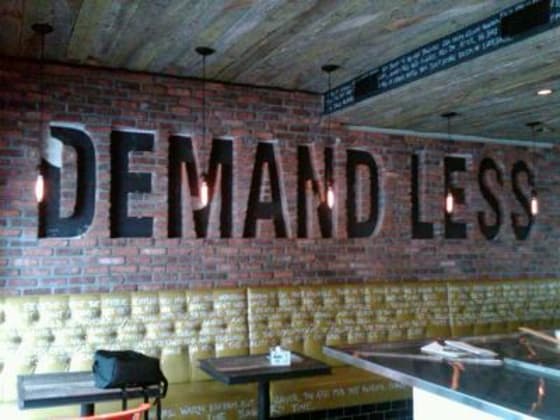 Craft and Commerce is thriving. The nouveau-Boho eatery is situated in Little Italy on the ground floor of an unaesthetic condo building, blocks from a noisy train track. A prior restaurant concept quickly failed here. But soon after C&C took over, they expanded the space.
What's the secret?
The quirky, innovative ownership team refuses to give in to mediocrity. Arsulan Tafazoli and Nate Stanton are principal partners who've succeeded at every step as of late.
Stanton and his brothers created East Village bar El Dorado (hit!) in 2008, where the focus was craft cocktails. Nearby, around the same time, Tafazoli built the Neighborhood burger joint (hit!) where catsup is not allowed. Stanton and Tafazoli collaborated on a semi-secret speakeasy in the back of Neighborhood called Noble Experiment (big hit!).
Craft and Commerce (huge hit!) was followed up by ramen noodle house UnderBelly (the hits keep coming!). The pair calls their company Consortium Holdings and has announced that a North Park dual venture called Polite Privisions and Soda & Swine will open in December.
C&C appeals to both the eye and the palate. Designed by noted local architect Paul Basile, it won the most recent Grand Orchid award from the San Diego Architectural Foundation. The eatery also hauled in national acclaim from Food & Wine and GQ.
Tafazoli calls C&C a hybrid. "It's a restaurant and a cocktail bar and a gastropub," he says.
For lunch and dinner menus C&C grinds its own meats, uses a smoker and implements Old-World cooking techniques to make bacon cracker jacks, broiled oysters, fried pickles and roasted bone marrow. There's also fried chicken, burgers and mac-and-cheese (aged cheddar, roasted garlic, beech mushrooms, lemon zest).
C&C craft cocktails, like the British Firing Squad, with gin, house grenadine, lime and angostura bitters, are served with slow-to-melt special ice cubes, made in a Kold-Draft ice machine.
For brunch, patrons can sit on the patio and share champagne cocktail punch bowl service. Indeed, C&C offers a full bar…except for vodka.
Why? That would be too mainstream.
(IVN contributor Ron Donoho is a veteran San Diego magazine editor who currently operates the downtown-centric website SanDiegoBugle.com.)