Credit: dennishouse.wordpress.com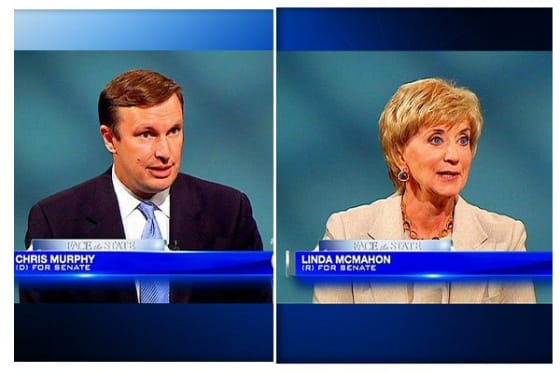 Connecticut is a reliably Democratic state so it is surprising that Republican Senate candidate Linda McMahon who lost badly two years ago in a Senate challenge is now leading this year's Senate race. Her biggest support comes from independents, who favor her 55-40%.
Richard Blumenthal defeated McMahon by twelve points in the race for retiring Chris Dodd's Senate race in 2010. Yet a Quinnipiac Poll released Tuesday has McMahon ahead by 49-46 percent in her bid against Democratic Rep. Christopher Murphy to replace retiring Sen. Joseph Lieberman. While the lead is statistically insignificant, it indicates a race that is at least even.
Whenever you see a reliably blue or red state seeming to tilt even slightly in the other direction, it raises eyebrows. Connecticut hasn't voted for a Republican for President for 24 years, and failed to re-elect its last Republican Senator at that same time.
Of course, politics is always local. Blumenthal was a hugely popular, activist State Attorney General for twenty years before running for US Senate. Thus, he was highly visible and well known. However, Murphy, a progressive Netroots-allied member of the House of Representatives since 2007, is much less known.
McMahon is highly visible due to her previous Senate race and her previously running World Wrestling Entertainment Inc. with her husband Vince. She spent $50 million of her own money trying to defeat Blumenthal and could probably spend that much again in this race.
The poll confirms that Murphy suffers from low visibility. Voters are 38% favorable, 30% unfavorable towards Murphy with 32% needing more information. McMahon has 47% favorability rating with 35% opposed with only 18% needing more information.
Obama carried Connecticut by a whopping 22% in 2008. He currently leads Romney by 7%, a decided drop but a still comfortable lead. Obama's coattails are definitely shorter in Connecticut this election but Murphy does not appear to be benefiting from them at all. He should be the heavy favorite in this race, but is not.
"We've always known this race was going to be close," Mr. Murphy said, adding that Ms. McMahon has spent approximately five times as much on television ads as he has. "And Connecticut has a history of pretty competitive statewide races, so I'm confident I'm going to win, but I don't think it's going to be a blowout."
If Murphy loses, it bolsters Republican chances of taking back control of the Senate.