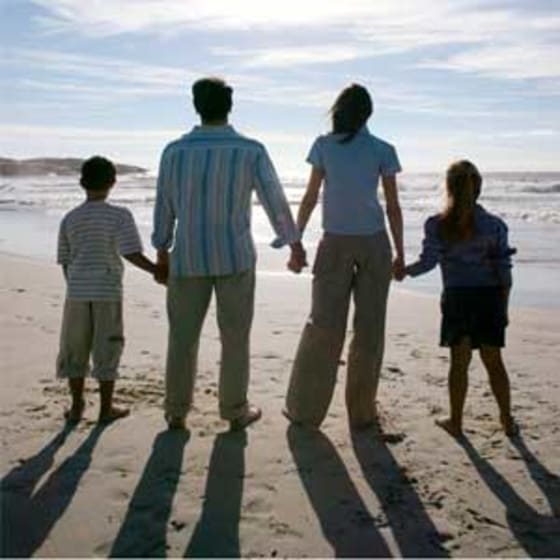 "Making Ends Meet," a report released by the California Budget Project (CBP) on June 24 estimates that a family of four with two working parents in California needs an annual income of $75,000 to cover basic needs. 
To calculate expenses, CBP used federal and state data for child care, food, health care, taxes and transportation. CBP also calculated needs for different family sizes such as one working parent with two children, a single working parent with two children and single adults.  A family of four with one working parent needs $54,039 in annual income; a single parent with two children needs $64,239 and a single adult $30,445 each year.  The report did not include expenses for cable television, for mobile or smart phones, or for only a single land line. 
The CBP report (PDF) calculated that for a hypothetical family of four with two working adults, one infant and one school-age child, housing, child care, taxes and health insurance were the top four household expenses.  
•    Housing - 20% of monthly budget at $1,502 per month (two bedroom apartment) 
•    Child care - 17.5 %  of monthly budget at $1,139 per month 
•    Health insurance- 17% of monthly budget at $1,021 per month ($500 deductible family policy from Kaiser) 
•    Taxes - 14.3% percent of annual budget 
The report assumed that a two working parent family with two children would pay $1,021 per month for health insurance from the private market. While half of California workers younger than 65 have employer-based health insurance with an average monthly cost of $283 (all people over 65 are covered by Medicare - single-payer health insurance administered by the federal government), many lower-income workers do not have employee-sponsored health insurance.  According to the report, if one parent had employee-based health insurance, they could save an estimated $10,000 annually. Moreover, the employer-based health insurance is tax-free, increasing the benefit to families even more. 
In the Ventura County Star, executive director of the California Budget Project Jean Ross said that the report underscores the importance of employer-sponsored health insurance in making ends meet. The report also aims to draw attention to possible effects of the proposed cuts to health care, welfare and other safety net services included in Gov. Arnold Schwarzenegger's latest budget plan which also slashes funding for child-care.
Specifically, Ross stated, "We view the report as a tool that can be used to assess the impact of public policies. We believe that public policies do make a difference in the lives of Californians every day." For example, Governor Schwarzenegger's proposed budget eliminates all nonschool-based subsidized child care, a proposal designed to save $1.2 billion that would affect services for up to 240,000 children. According to Ross, the loss of child care will "put people at extreme risk of losing a job. We look at the issue of child care as being particularly critical because of its role in helping families to be productive." 

Moreover, the state's tax increases last year - the reduction in the dependent tax credit and the increase in personal income tax rates - substantially boosted the amount of California income taxes owed by low-income and poor families. For example, the total amount of personal income taxes owed by taxpayers with adjusted gross incomes between $10,001 and $20,000 increased by 17.7 percent between 2008 and 2009, while the taxes owed by taxpayers with incomes between $20,001 and $50,000 rose by 2.8 percent.
On the other hand, tax liability for high-income taxpayers actually declined. The increase in the state's sales tax rate and the vehicles licensing fee (VLF) also disproportionately affected low-income families since lower-income taxpayers pay a greater share of their incomes in sales taxes and the VLF. 
The report also calculated income needed for different size families in all 58 of the state's counties which varied widely from county to county. For example, in San Francisco, a single person needs to earn $32,000 annually while a family of four with two working parents must earn $84,000. In Fresno, a single person must earn $26,533 and a family of four with two children must earn $66,963.