Voting Rights Groups Alarmed as Early Voting Centers Close in Key Georgia County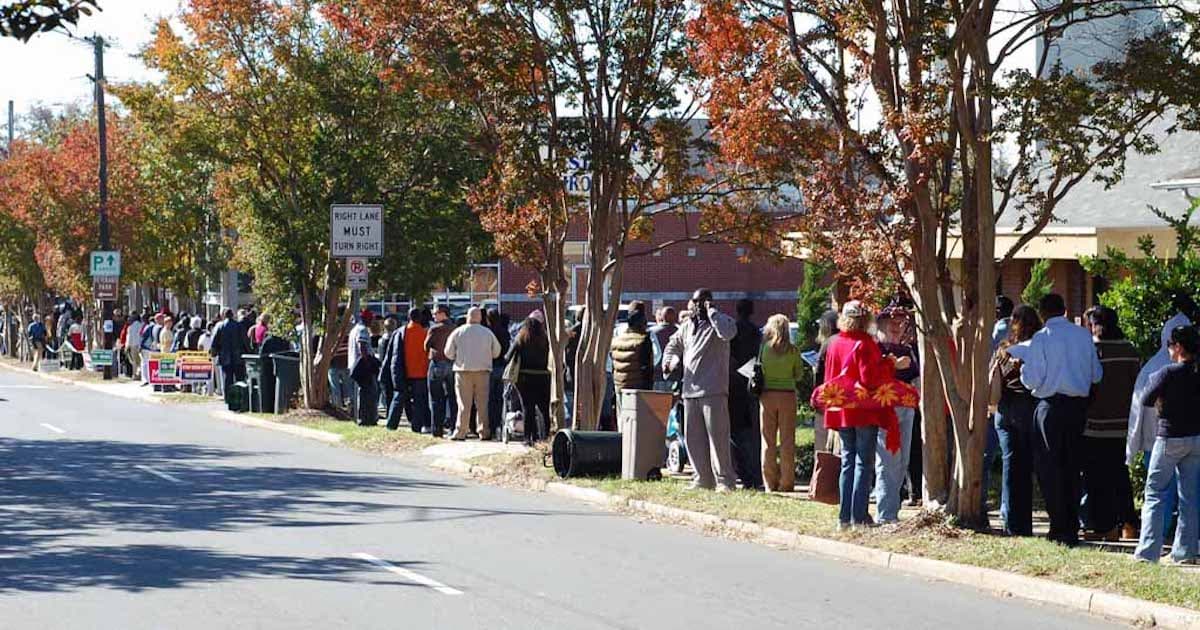 Created: 08 December, 2020
●
Updated:
14 August, 2022
Editor's Note: This article originally published on The Fulcrum and was republished on IVN with permission from the publisher.
More than half of the early voting centers in Georgia's third largest county have been shuttered ahead of the high-stakes Senate runoffs next month.

When early voting starts next week, Cobb County will keep just five of its 11 voting locations open. That drastic reduction, voting rights groups say, will disproportionately impact Black and Latino voters in the western suburbs of Atlanta.
Ease of access to the voting booth is a central cause of democracy reform groups in every election, but promoting or suppressing turnout in the next federal contest is of particular importance because the twin runoffs will decide which party controls the Senate.
Because no candidate in either race attained a majority in November, both Republican incumbents are having to defend their seats in a rare second round of voting Jan. 5 — David Perdue challenged by documentarian Jon Ossoff and Kelly Loeffler facing Baptist minister Raphael Warnock. If just one of the senators wins a new term, the GOP will remain in charge. If both Democrats win, their party will have 50 seats but will have a majority once Kamala Harris becomes the tie-breaking vice president.

Six voting and civil rights organizations sent a letter Monday to Cobb County election officials asking them to keep all 11 early voting centers that were open in the general election. The organizations underscored the importance of ensuring the county's 538,000 voters could cast a ballot however is most comfortable and convenient for them.
"Reducing the number of advance voting locations for the runoff election when turnout is expected to be high and Covid-19 is raging will have a foreseeable detrimental impact on Cobb County's ability to provide smooth election operations and voters' ability to vote safely and securely," the groups wrote.
This change in election operations could also confuse voters who may try to vote at the same early voting center they used in the fall, they said.
Of particular concern is how these closures will impact minority voters since many of the targeted polling places are in communities with significant Black and Latino populations. Some will have to travel five miles or more to vote.
But Cobb officials say they don't have enough trained staff to populate all the early voting centers for the runoffs — especially with the holidays approaching and coronavirus cases surging,
"The remaining team members who agreed to work would do so only if the hours were less onerous," Janine Eveler, the county elections director, wrote back to the advocacy groups. "We are at the end of the election cycle and many are tired or just unwilling to work so hard, especially during this time of year."

In-person early voting accounted for 45 percent of general election ballots cast in Cobb County. And even with 11 places to vote then, some waited in line as long as 10 hours — another reason the advocacy groups say all the early voting sites should be kept open.
Cobb is the only jurisdiction in the Atlanta metro area planning to reduce early voting options. Neighboring Fulton, Gwinnett and DeKalb counties say they plan to repeat their operation from the fall.
Georgians may also vote by mail, which a million have already asked to do. The deadline to request an absentee ballot is Jan. 1. On Jan. 5, all 145 in-person voting precincts in Cobb County will be open.
The organizations that signed the letter are the NAACP Legal Defense and Educational Fund, All Voting is Local Georgia, Georgia's chapter of the NAACP, the SPLC Action Fund, Black Voters Matter Fund and Georgia's chapter of the ACLU.
Cobb is critical to the Democrats' fortunes. President-elect Joe Biden became the first of his party to carry Georgia in 28 years — albeit by less than a percentage point — only because he took the county by 14 points. Ossoff bested Perdue by 11 points in the county and Warnock outpolled Loeffler by 13 points.