To Pivot or Stay the Course? Catering, Events Professionals Seek Paths to Survive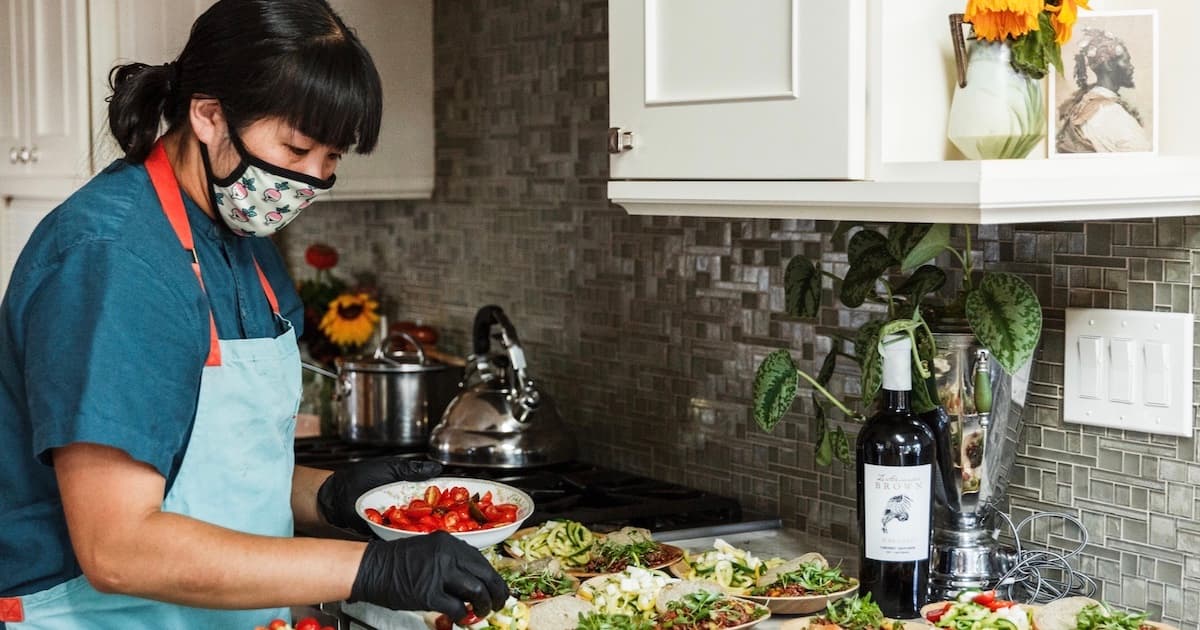 Created: 12 November, 2020
●
Updated:
14 August, 2022
The COVID-19-related private event cancellations started in February, reaching a crescendo in March as the pandemic closed down travel worldwide. Meetings, conventions and catered private events, including weddings, ground to an abrupt halt. By the time the state and county issued lockdown orders catering and event professionals' suspended businesses were already facing hibernation at best.
San Diego's tourism and events industry, which represents about $11.6 billion in annual total visitor spending and employs nearly 200,000 people, mostly shuttered.
"March was supposed to be our busiest month in history, but it crumbled to nothing. Our business is global, but people didn't come to town. We had two events in March, but no traditional business since then," explained Stephanie Parker, Rolando-based owner and director of hospitality for Epicurean San Diego. The five-year-old company specializes in introducing both visitors and San Diegans to the local culinary scene, showing them the bounties of the county's farms, wineries, breweries, coffee roasters and other wide-ranging food producers.
"We do farm-to-table experiences: customized cooking classes, tours, pop-up dinners, tastings and other events to connect people with their food's producers," she said.
What to do, with her clients evaporating for the foreseeable future?
Parker considered taking her business on-line, offering virtual experiences as other event pros have done, but decided her services wouldn't transfer well. Instead she drew on her 15 years' hospitality industry knowledge and pivoted to providing business and social media consulting to other small businesses to help them survive the pandemic.
And, to assist her network of 35 suppliers to stay afloat and keep her brand alive, she marketed EPIC San Diego Sunshine Boxes. The customizable gift boxes contain eight San Diego-made products, including small-batch tea, coffee, salt, honey, chocolate and sriracha.
Many catering and events pros offer similar stories about cancellation of their events and refocusing their services.
Chef Christina Ng, whose business, Chinitas Pies, is based in El Cajon, had long volunteered with the Berry Good Foundation, assisting with programming. Just before the pandemic she began working part-time organizing the foundation's food education programs to supplement her primary catering work. As a personal chef she cooks and delivers prepared meals for about eight families. Pre-pandemic Ng also taught Epicurean San Diego's cooking classes.
"In the early 'scare period' of March/April, all my families doubled their orders because they didn't want to leave their homes, plus I added two families. That made up for my lost events," Ng said.
She is again receiving calls for small, mainly outdoor, in-home catered gatherings, including birthday parties, for up to 15 guests.
"I knew in March and April people would lean towards small private parties. I'm more comfortable with that. I advise against family-style and recommend plated service instead," she explained.
Like many others, Ng had to reposition her career.
"As an educator and food professional, you have to find where the need is."
Pre-COVID-19, Chef Jenn Felmley focused mainly on catering small-to-medium parties at vacation rentals, homes and businesses.
"One day Airbnb cancelled all rentals across-the-board. I kept getting cancellations. That was my signal things will not be the same. I knew my business wasn't going to rebound until 2021," she said.
Felmley, who calls her business Chef Jenn Cooks Personal Chef Services, realized people still want to celebrate personal occasions and holidays. Carefully paying attention to where her market is and what her clients want, she explained her business has "evolved" rather than "pivoted." To support her solo business she has long nurtured a "village of people."
"The minute we went into lockdown I went straight to my network. I was talking to people all over and kept in contact. Through that I kept my business afloat," she explained.
The native San Diegan, now North Park-based, set up a popular Facebook group called Quarantine Kitchen, where members, both local and national, can post their quarantine-prepared dishes. Through this she broadened her network and picked up new clients.
For Felmley, a Johnson & Wales College of Culinary Arts graduate who holds a California teaching certificate, teaching cooking has been a career constant. Since the pandemic she has provided Zoom cooking classes for a Pennsylvania summer camp, small private group lessons and monthly sessions for a family seeking cooking skills for their children.
For some clients she combines classes with a drop-off meal. And, slowly, small party bookings are returning, whether for pods of quarantining families for a home wine tasting, birthday party or outdoor celebration, for groups from two to 10.
"Years of catering experience prepared me for what's happening now. I've always had to be prepared if one thing fails, to do something else, to have Plans B, C, D, E and F," Felmley explained.
In contrast, nearly nine months in, many full service caterers and event-related professionals are struggling because they're restricted from resuming operations, even with limitations, and haven't received guidance from government authorities on how to restart their private event businesses. Many are furloughed or laid off from employers or, if self-employed, striving to reinvent their businesses to survive.
Increasingly frustrated and angry at being put off by authorities, they've banded together with statewide colleagues to form a new association, the California Association for Private Events, to raise their visibility and lobby the governor and public health officials to approve reopening guidelines, explained Zapher Dajani, owner of The Abbey Catering. His firm caters and stages private and corporate events, including 800 weddings a year, throughout San Diego, including at two of their own event venues.
"Wedding ceremonies are legal. Wedding receptions are not. All we're asking for is simple wedding guidelines, following the current approved restaurant guidelines," Dajani said. He explained they are willing to comply with similar size/capacity restrictions, as well as bans on dancing, buffets, bars and passed trays. But, without a reopening protocol, planners can't book events, typically scheduled a year or more ahead.
Without professional expertise Californians are staging their own parties and receptions, he explained, adding to the pandemic problems, while keeping event pros unemployed.
"There's a huge number of backyard, bootlegged weddings — the super-spreader parties we hear about — with no one to manage anything," he said.
In contrast some caterers and restaurants, including Waters Fine Foods & Catering, are participating in the Great Plates program, a San Diego County and state program delivering cooked meals to vulnerable seniors, disabled and veterans unable to leave home. Mary Kay Waters said this enabled her to rehire most of her furloughed staff while providing an essential community service.
Spencer Bezy, president of the San Diego Chapter of Meeting Professionals International, explained that many members are refocusing their businesses towards providing partially virtual services, developing ways to move forward online. His own company, Mobile Music Plus, provides DJs, lighting, video and audio/visual equipment for events, many now virtual.
"The organizations we work with, especially nonprofits, still have a mission to pursue. We're helping them find ways to modify what they've done before, to take their fundraising galas virtual," Bezy said. "Our virtual business is growing and it's opened another avenue for us."
He expects the industry to change significantly. Buffets won't reappear in the foreseeable future, nor any large scale events before fall 2021, with larger events of over 1,500 farther away.
The industry, he said, is "alive but struggling," continuing to look for ways to adapt and adjust to the current reality and to push for the means to reopen gradually.