The Ultimate Balancing Act: San Diego Teachers Pull Double-Duty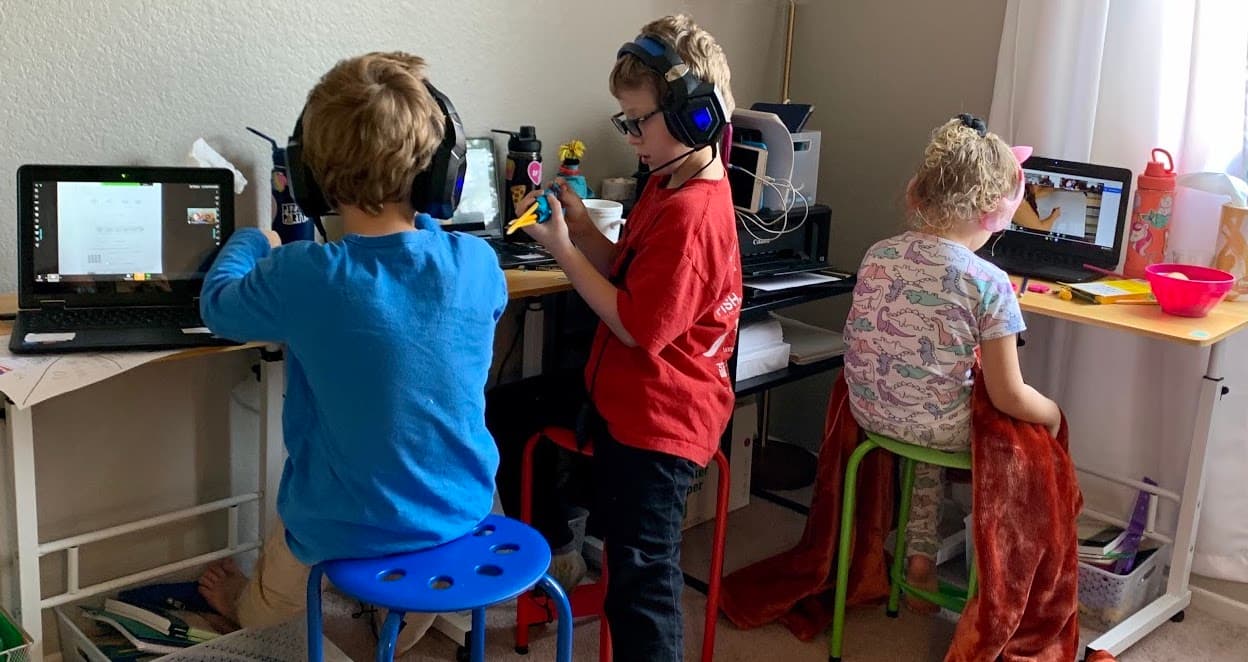 Created: 18 September, 2020
●
Updated:
14 August, 2022
Three weeks into the 2020-2021 school year and San Diego families are settling into their new routines. Aug. 31 was the first day of online classes for the San Diego Unified School District when thousands of students started their days in front of district-issued Chromebooks. Typed greetings now replace traditional attendance and students across grade levels are tethered to screens for about three hours a day with breaks.
Meanwhile, Shelly Steely is balancing distance learning as a teacher and a parent. She and her husband are working out of their home office next to their twin 8-year-old sons and 6-year-old daughter as they follow along with their third and first-grade remote classes.
"I don't even know how we're doing this, to be honest," said Steely.
Steely teaches at Mark Twain High School on Linda Vista Road.
"It looks like a lot of me muting myself to get my kids back on track while I'm teaching high school is what it looks like," said Steely.
Steely says all three of her children are having a tough time focusing on during distance learning. She describes her sons' third grade teacher as "over the top, excited, engaged and pleasant." Still, the two boys wiggle through their virtual class. Her daughter is not any more tuned into first grade.
"I was struggling through the 90-minute training that the district had us do and I'm a grown adult," said Steely. "So, 90 minutes of Zoom for my kids is really hard."
As an educator, Steely finds physical proximity to her students makes a difference.
"My students will be focused and engaged when I'm near them," she said. "When I'm not near them they lose the motivation to be focused or engaged."
This concept is referred to as proximity control among educators. The idea is students will often stop doodling, daydreaming, or any other distracting activities if the instructor stands close.
Steely misses having this tool to use with her students. She also notices that her daughter gets bored and sometimes stops listening to her first grade teacher, possibly due to the distance or being academically advanced.
It's Steely's job to keep her kids on a schedule. She monitors their breaks, makes sure they have the right materials and guides them through any technological challenges.
"I feel like I am my kids' assistant while I'm working a full-time job," said Steely.
Her students mostly work independently. If Steely is pulled away from a student to help her children she says it's typically a few minutes. Many of her students are also juggling dual responsibilities as they attend remote classes while caring for their younger siblings.
The demands of distance learning impact the entire household. Steely says her husband is having a tough time managing a call center while sharing office space with her and the kids.
He uses his hour break from work to help their children stay on task otherwise it is up to Steely to keep the train on the tracks.
"I know it's the safest option and we want everyone to be safe but I'm teaching high school while I'm trying to keep three elementary kids engaged in video learning," she said.‍
'I Can't Sit and Help Her with Her Feelings'‍
San Diego mom Courtney Green is also teaching from home while managing her daughter's distance learning lessons. Their morning routine includes a walk around the neighborhood then her husband takes their toddler son to daycare before he heads into the office.
Green logs into her class first giving her 5-year-old daughter about 45 minutes of independent playtime before she needs to be seated in front of her brightly colored tablet. Before the pandemic, Green had planned for her daughter's first day in kindergarten. She even requested time off to make sure she would be there to make the transition easier.
"It's been really hard," Green said. "I was really excited about her starting kinder and she was excited too so we've both been pretty disappointed about how it's happening."
The pair work side by side at the dining room table. They are both putting in about three hours of class time, five days a week. The school year started with Green and her daughter in separate rooms but that lasted less than a week.
"She gets done after about 45 minutes and then it's a real struggle to have her continue for three hours even with all the breaks," she said.
Green recommends parents and teachers be flexible during this unusual time. This could mean allowing children extra time away from their computers to wiggle and stretch if needed. Green said she adopted a more flexible teaching style than the traditional one she had been taught when she became a mother. Intrinsic motivation techniques replaced behavior clip charts, students choose their seats, and there is an emphasis on understanding emotions. Green is applying these techniques with her students at Karl H. Kellogg Elementary School in Chula Vista.
"There hasn't been that much training for teachers across the country on distance learning and we're all feeling like we're first-year teachers again trying to figure this out," said Green.
The school year is just getting started. It may be too early to measure what's working. Green said even with adept 9- and 10-year-olds the first weeks of remote learning were focused on fixing technological kinks. Another hurdle is typing. Moving to a digital platform Green notices that some of her students have trouble typing.
Many students also work without adult supervision. Green estimates about a third of her students take the class in a room by themselves and about that many are with their siblings.
Green said she's disappointed when most of her daughter's classmates are supported by their parents but she's preoccupied with work.
"I can't sit and help her with her feelings," Green said. "I can help her for 30 seconds right now before I have to go back to my class."
Like other parents, Green worries about the long-term impacts of this experience, particularly the social isolation.
"Since her preschool closed in the spring she's suffered socially," she said. "She's been depressed and cries a lot and pouts in the house and doesn't even want to go on walks outside so that's been really hard for my husband and me to see."
Green is also concerned about how educators are faring during this unique time when frustrations are high.
"Teachers are working the hardest they've ever worked. It would be really appreciated if parents thought of one thing that they've noticed that is going well to just send an email… maybe one sentence to say thank you," said Green.
Steely also predicts we'll see long-term effects of distance learning. She thinks her children are missing out on important socialization opportunities.
But she says she's more concerned for economically disadvantaged children who are more susceptible to falling behind academically.
"The parents who can afford to pause or send their kids to daycare, or hire a tutor to help with distance learning or pull their kid and homeschool them themselves or put them in a private school those are the parents whose kids are already doing better in school."
Both teachers are doubtful about the sustainability of their new parenting and teaching schedules. But they agree distance learning is the best solution for this unprecedented set of circumstances.
San Diego Unified is working with scientists from UC San Diego on reopening guidelines. The district announced in-person learning sessions to students facing the most severe challenges as identified by teachers would begin later this month.For more information about distance learning including parent resources click here.