Screening Of Oscar-Winning Film 'Inocente' Aims to Rekindle Focus on Youth Homelessness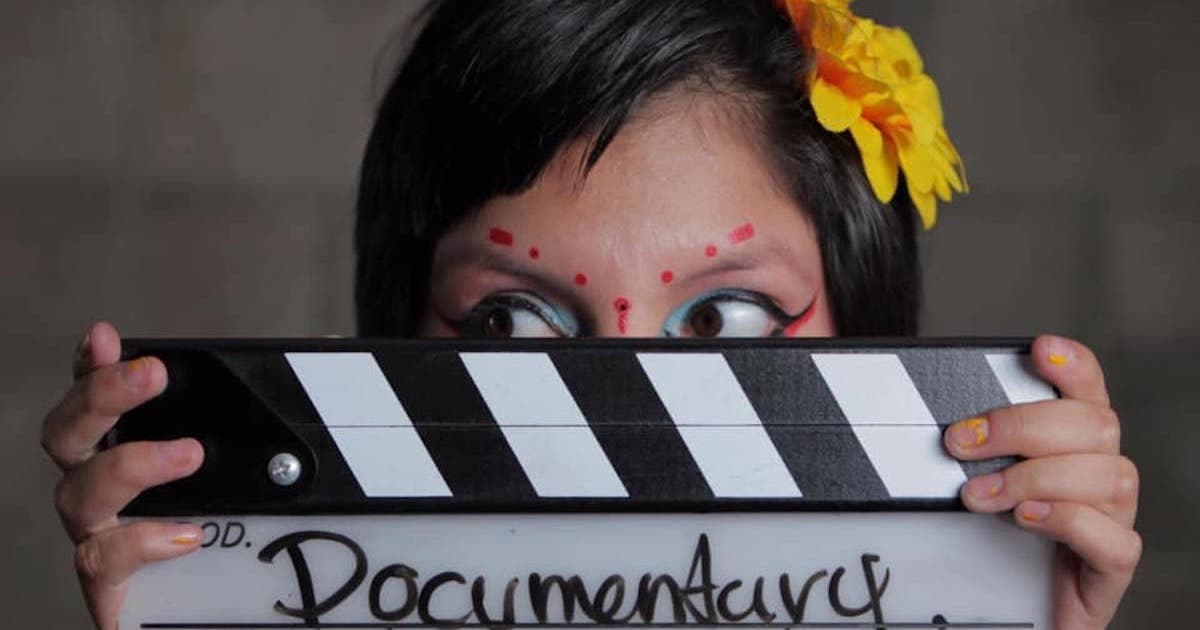 Created: 30 November, 2020
●
Updated:
14 August, 2022
Inocente Izucar is having a Zoom-era moment. On Dec. 9, 2020, she'll participate in a rare, free screening of an Oscar-winning documentary. The virtual event will re-introduce viewers to the childhood of a wispy, face-painting, homeless artist with an old soul and a trove of talent.
Does her name sound familiar?
Inocente's first big spotlight moment came in 2013. Actor Jamie Fox clapped as co-presenter Kerry Washington announced the Academy Award winner for Best Documentary Short was…"Inocente," co-created by Sean Fine and Andrea Nix Fine.
Looking angelic in a floor-length white dress and wobbling in loaner high heels, the San Diego teenager trailed behind the movie's husband-and-wife co-creators onto the stage at the Dolby Theatre in Los Angeles.
Standing before Hollywood's black-tie glitterati, Sean Fine concluded his acceptance speech by saying, "…Most of all, we want to thank this young lady who was homeless just a year ago. She's an artist—and all of you are artists—and we feel like we need to start supporting the arts. They're dying in our communities…we need to help girls like her stand up and be seen, and heard."
Time to circle back to that on our collective to-do list.
Inocente was 15 when the Fines made her the title character in their documentary about children experiencing homelessness. Before that, Inocente and her family spent nearly a decade in and around downtown San Diego. Sometimes they lived on the streets. Mostly, they got by in shelters or stayed with friends.
The struggle took its toll. At one low point of desperation, Inocente's mom walked the two of them to the top of the Coronado Bridge with the intention to jump. Her mother wanted to end their suffering. Inocente talked her out of it. (If you or someone you know is having suicidal thoughts, please call the National Suicide Prevention Lifeline at 800-273-8255.)
Paints and brushes have always been her saving grace. The Fines discovered her at the National City-based nonprofit ARTS: A Reason To Survive. Her teenage painting style involved lots of vivid colors. Subjects were often animals. Furry creatures who need care are near and dear to her heart.
Years ago, I interviewed Inocente for several publications. She described her style then as: "Messy. And clean. I have an image set and know what I'm doing—but sometimes I play around."
After the Oscar win, Inocente posed for paparazzi photos with movie stars like Daniel Day-Lewis. She got recognized all over town. For a year and a half, she toured the country to screen the documentary and do Q&As with earnest audiences.
The movie didn't provide a life-altering payday. The perception that she had become a movie star did lead to people coming out of the woodwork to ask her for money she didn't have. That felt weird, she recalls.
Today, Inocente holds down a day job. Working as a personal assistant to writer Barry Soper ("A Bum Deal") helps fund her artistic pursuits. Painting sales are sporadic. She has a website, but directs anybody interested in her art to her Facebook and Instagram pages.
Since she walked off the Academy Awards stage, Inocente and her family have always had a roof over their heads. For a time, she had her own place. Currently, Inocente lives in an Imperial Beach apartment with her mom, three brothers and sister.
There's no room for an art studio in the apartment. Because space is limited, she can't do large-scale canvas paintings. An issue with bugs getting into her canvases also made her skittish. So, she mostly paints on canvas paper attached to a clipboard.
"My work isn't as performative as it used to be," she says. "I've adapted to my surroundings. If my paintings used to have more action, I guess now I'm closer to the subject. It's more personal."
There have been some dark days since the Oscar after-glow subsided. Still, Inocente remains a pragmatic optimist.
"All we can do is keep going," she says. "Yes, there's a pandemic, but we just have to keep moving forward. People are still suffering and people still need help. Sometimes, you need a moment to grieve. But the world doesn't end, the world doesn't take a break. So, we just keep going forward."
A Bad Marriage, A Role Model
Inocente kept moving forward even after a short-lived marriage ended scarily. She was 23.
When the relationship soured, Inocente packed her belongings and announced she was leaving. When her husband wouldn't let her go, Inocente called the police, not once, but twice.
After the second visit, she was arrested.
"He said I pushed him," Inocente alleges. "He's in the military and I was just a housewife. Even though I'm the one who called the cops, they ended up arresting me."
She was sent to the Las Colinas women's prison in Santee.
"It was horrible," she recalls emotionally. "I was mostly upset because I was arrested for domestic violence. I spent every day crying because I thought my life was over. All I wanted to do was work with kids, and share my story with kids. And a lot of the kids I worked with were domestic violence victims."
After a week, she was released from Las Colinas. "It's like I was never there," she says. "It doesn't show up on my record."
Not long after that jarring experience, she was able to get back to her calling. In collaboration with the San Diego Opera, Inocente taught art to students at Memorial Preparatory Academy in Logan Heights. They painted set backdrops for school plays and performances.
"That made me feel so much better," she says.
Inocente still works on and off with San Diego Opera, and has been doing virtual art classes with kids.
John Gabriel, education director for San Diego Opera, calls her a role model and a mentor.
"Inocente has an incredible ability to deeply connect with youth, and help them discover how art can play a powerful role in their lives," Gabriel says. "She's committed to ensuring every youth she teaches has what they need to succeed, which has become an even greater challenge during this pandemic."
Back to Screenings
Out of the blue, Inocente recently got a request from an East Coast charitable organization to do a virtual event related to the documentary.
It had been years since anyone had called. Family Promise of Essex County, which focuses on the state of homelessness in New Jersey, asked her to participate in a Zoom Q&A on Nov. 16. More than 200 people signed up.
"It was really sweet to partner with them," Inocente says. "It was very focused on their volunteers. I remember volunteers when I was a kid here in San Diego. They did things like feed us and help us with homework."
That event was unrelated to the upcoming national screening/Q&A with the Fines and Shine Global, the nonprofit media company that produced "Inocente."
Here's how that screening process works: For the week leading up to the virtual event (Dec. 2 to 9) anyone can sign up on eventive.org to download a free copy of the 40-minute documentary. Participants watch the film on their own, then tune in to the livestream of the Q&A at 5 p.m. (PT) / 8 p.m. (ET) on Dec. 9.
The Q&A is also free. Donations are requested.
"Inocente" first appeared on MTV in 2012. The cable TV channel aired it for years but eventually took it down. Today, you can rent or buy the documentary on iTunes, or it can be licensed through the producers for charitable events.
Still an Optimist
Inocente is on the verge of her 27th birthday. I asked her when was the last time she watched the documentary. She reactively giggled. It was a sweet, familiar laugh that echoed through the telephone like a transmission passing through a time machine.
"I watched the trailer recently, but it's been years since I watched the whole thing," she says.
Nonetheless, she's glad there appears to be revived interest in the film.
"Especially now, when people are at home and they still need to be reminded that the homeless fight isn't over," she says. "A lot of us are going through a hard time, but there are a lot of people going through much worse. Right now, things seem very calm. But one day, everyone's going to get back out. We just have to continue on. We can't slack off during COVID."
No. And as Inocente has seen and lived firsthand, homelessness is an issue that only sporadically rises to be top-of-mind inside the political machine. She says homelessness came up during the recent mayoral race because it had to be discussed and debated. Superficially, at least.
"But, I mean, I don't know, on that I get really discouraged," she says. "Every time I've heard any mayor here in San Diego, they give the big speech. Then they give their five-year plan. And then they say they have so many million dollars to do this, this and that. And years later, it's still hard to see where anything has changed."
Political inaction won't stop Inocente from leaning into whatever positive forces are at her disposal.
"Well, I'm optimistic because even though I'm not huge into social media, I see the power it has," she says. "Look at us being able to screen the documentary all these years after they filmed it. Anyone in the United States can join in for free. That's exciting."
Maybe it'll be a big deal. Or, maybe it won't. Either way, Inocente's old-soul observation bears repeating: "The world doesn't end, the world doesn't take a break. So, we just keep going forward."