San Diego's Homeless Voices Matter on 'America's Got Talent'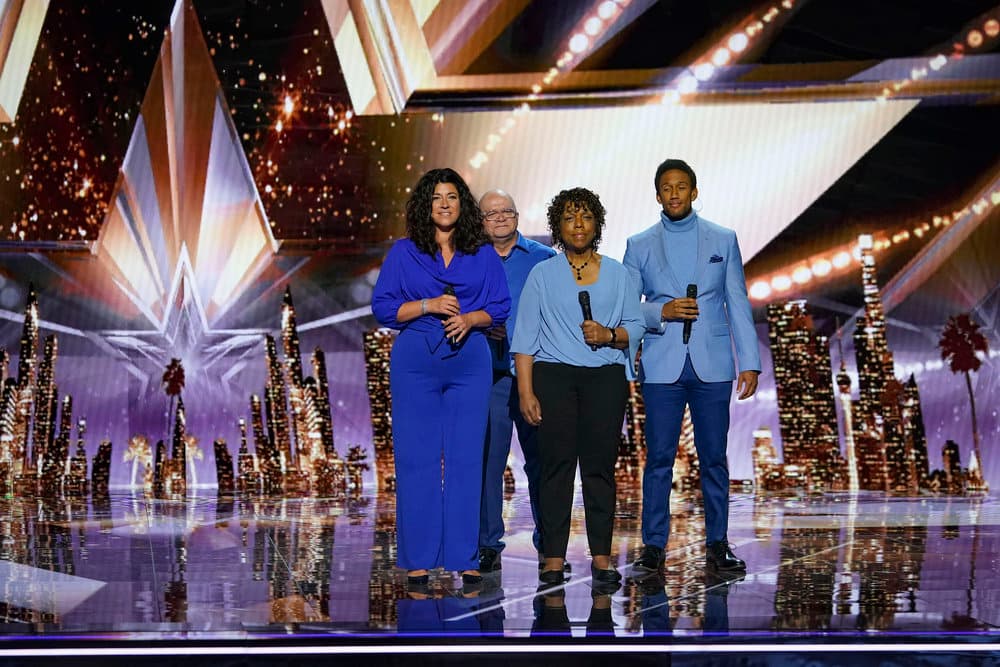 Created: 14 September, 2020
●
Updated:
14 August, 2022
Homelessness has been largely obscured by the pandemic. The issue is receiving attention and affirmation from, of all places, the reality TV show "America's Got Talent." A singing group composed of people experiencing homelessness that has made it to the semifinal rounds of the highly rated talent competition.
San Diego's Voices of Our City Choir is winning hearts and votes from viewers all over the country. The choir next performs in the semifinals at 8 p.m. Tuesday on NBC. We'll find out the next day if they receive enough votes to advance to the following week's finals and get a shot at the $1 million top prize.
This high-profile effort by the choir is an unexpected and welcome plot twist. Too often, reality TV highlights storylines of superficial matchmaking ("The Bachelor"), meat-headed buffoonery ("Big Brother") or fisticuffs between privileged divas ("The Real Housewives" franchise).
It's uplifting to see a reality TV show endeavor to shine some light on one of the country's most marginalized populations. For sure, "AGT" serves up its share of goofy performances for comedic relief. But with the Voices of Our City Choir, the show's producers have documented the real-life challenges of homelessness.‍
Gaining A Voices
The choir has an incredible origin story.
Flash back to 2016. At the time, homeless encampments were growing at an alarming rate in downtown San Diego. The city was among the top four regions in the country for the number of people experiencing homelessness.
The unsheltered citizen problem was getting worse at a time when Major League Baseball's All-Star Game was coming to downtown's Petco Park. To clear the scene for the MLB national spotlight, the mayor's office and the San Diego Police Department increased efforts to sweep away visible signs of homelessness. Organized food-sharing was banned. The police stepped up enforcement of ticketing people for sleeping outdoors.
One mean-spirited and heavy-handed effort included the creation of a spiky rock garden under a freeway overpass. It's a location where many people experiencing homelessness slept at night. Note: One person who'd previously used the spot as a safe haven is now a soloist with the Voices of San Diego Choir.
As all this was going on, Steph Johnson wanted to do something. The award-winning jazz singer/guitarist has recorded five albums. She's an effusive soul and a relentless optimist. Johnson surveyed the sad state of affairs and was determined to make a difference for her unsheltered neighbors.
The popular local entertainer started going person-to-person and tent-to-tent. She offered bottled water and simple human interaction. Her conversations with people on the streets often turned to music. When her profile as an activist started to grow, a downtown pastor offered Johnson use of the Living Water Church of the Nazarene for outreach efforts. She accepted and immediately co-founded a singing group.
The intention wasn't to get on a reality TV show. Johnson sought to create a safe space for people to get off the street and forget their burdens—for an hour and a half—by singing together.
"Singing is a metaphor for having a voice," Johnson says. "It feels good to open up and say what you want to say. Art is a vital way for people to rediscover their worth."
During a Christmas concert that was also an album release party, Johnson had the choir sing a few songs. The reaction floored everybody.
Johnson tears up at the recollection. The choir had assembled onstage at the Logan Heights performance site Bread & Salt. Accustomed to being ignored—not being celebrated in the spotlighted—their choir's collective body language didn't exude confidence. Johnson says they looked vulnerable. She was incredibly nervous about making them the focus of attention.
"I was worried," Johnson says. "I wanted them to be treated kindly. I wanted them to be respected. I didn't want them to do this and have people scoff, or make fun of them, or miss the point."
The choir's first song was U2's "Love Rescue Me."
During the performance, Johnson kept one eye on the 300-person audience. "People were immensely curious and transfixed," she says. "They were moved, though. You could feel it. When the song ended the whole room stood up and cheered and screamed and cried together. It was like they were waiting for a moment to jump up and show respect to a group of people they didn't really know how to engage with."
Johnson recalls that the choir was initially shocked. "Then, they realized the applause was for them," she says. "In that moment, when the audience clapped and celebrated them, the choir received it. I watched them literally stand taller."
Think about what it's been like to be quarantined in your home. Now imagine you don't have a home. How much more alone and insignificant would that make you feel?‍
Sadly, most of that euphoria was erased the next day. The majority of the 17-member choir was ticketed for sleeping outside the church where choir practice was held. One person was arrested.
Soon thereafter, Johnson scrapped plans to tour for her album and devoted herself full-time to the choir. A 501(c)(3) nonprofit was formed. Johnson is now both the executive direct and creative director of the nonprofit.
Besides being a singing group, the organization oversees food delivery and support services to those in need. Membership has swelled to 250. More than 60 choir members have been inspired to get off the street and obtain secure housing.

COVID-19 has been tough on the organization and the community it serves. Safety regulations have made it impossible for the choir to hold regular Friday practices. They've had to get used to doing Zoom meetings. Finding computers and adequate internet connections for members has been a challenge.
Keeping morale up has also been tough. Think about what it's been like to be quarantined in your home. Now imagine you don't have a home. How much more alone and insignificant would that make you feel?‍
On With The Show

Somehow, working with "AGT" producers and its very high-tech production team, the choir has managed to keep the ball rolling.
In the first round of "AGT" shows (taped pre-coronavirus), Voices of Our City impressed producer/judge Simon Cowell, and in particular, host/actor Terry Crews, with an original song co-written by the choir. The performance netted the choir a coveted "Golden Buzzer," which leapfrogs an act to the quarterfinal round of the live shows.
Just like during their first-ever show at Johnson's Christmas concert, this 2,500-person crowd went wild for the choir. "AGT" audiences are traditionally effusive—but they'll also boo acts that don't cut it. The choir got four standing ovations.

On Aug. 18, on a socially distanced stage set, with no studio audience, the choir sang Ben E. King's classic "Stand By Me." Guest judge Kenan Thompson (of "Saturday Night Live" fame), asked Johnson if the choir "gets a kick out of making people cry their eyes out all the time."
Thompson also commented that his young daughter watched the choir's first-round performance and has been singing their original song, "Sounds of the Sidewalk," for weeks.
The song's lyrics are catchy and relatively upbeat:‍
"Listen to the sounds of the sidewalk,
Rolling on the pavement with a one-two beat.
Smooth and steady, rolling easy down the street.
Even though I'm not quite back up on my feet, I'm helping myself stand up independently.
I gotta keep that hope for tomorrow with my dignity inside.
What's mine is yours to borrow, together we touch the sky
The struggle is over, I can see it in your eyes
The future is open and we're rolling, rolling, rolling."‍
As the choir continues to tug at the public's heartstrings, Johnson hopes the exposure on "AGT" can help connect viewers with people experiencing homelessness in communities all over the country and the world.
The choir is harmonious, for sure. They're good—and audiences don't necessarily expect them to be brilliant. Their secret weapon is spiritual magnetism. Performances resonate on a deeply emotional, molecular level.
"If anybody is moved by the choir, it's a positive," Johnson says. "And this I know for sure—any one person with a true intention to create solutions for a societal problem can make a difference."
"AGT" is humanizing homelessness. Let's face it, people have fears and concerns about those folks who live unsheltered near their homes or workplaces. Voices of Our City Choir's positive depiction on "AGT" reinforces the notion that all human beings in any station of life should be seen and heard, and in some cases, even celebrated.
"Keeping Up with the Kardashians?" No, thanks.
You should, however, tune in to a reality show offering positive reinforcement, a message of acceptance and songs that encourage kids to build rapport with a choir of people experiencing homelessness.