Minority-Owned Dry Cleaners See Business Dry Up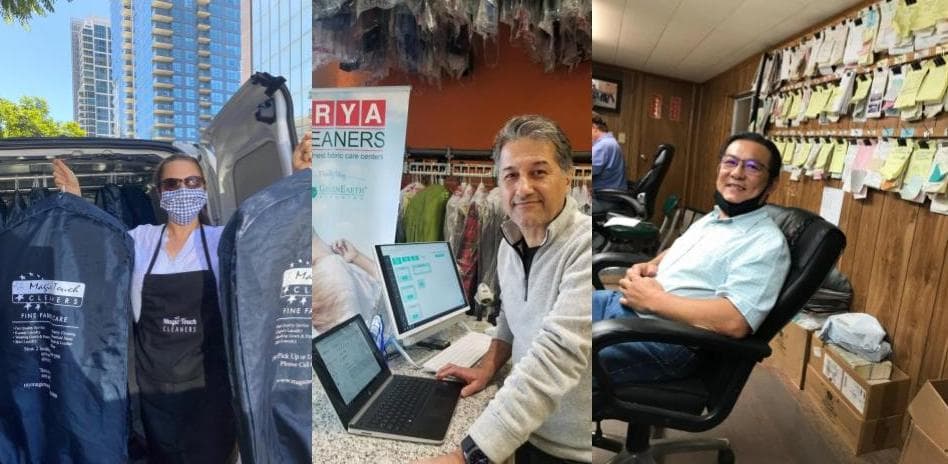 Created: 19 October, 2020
●
Updated:
14 August, 2022
When the Iranian Revolution broke out in 1978, Sassan Rahimzadeh's family made its way to the U.S., escaping the violence that killed thousands of people and toppled the regime of Shah Mohammed Reza Pahlavi. Just a few years later, his family opened its first dry cleaning business in San Diego County.

"It was your typical mom and pop shop," said Rahimzadeh, owner of Arya Cleaners. "Over the years we opened more locations from Horton Plaza to Del Mar."

Today, his business has shrunk to just four locations in Chula Vista. If he's lucky, those four stores will stay open.
"We're down 75% to 85% in revenue," says Rahimzadeh, who is also president of the California Cleaners Association, a professional trade group with more than 125 members. "We have some revenue (but) frankly, it's next to nothing. We prefer to stay open but it's such a huge loss." He said the cost of operation is now greater than the revenue.
Rahimzadeh isn't alone. He said members of his association, as well as members of the Drycleaning and Laundry Institute International, a Maryland-based professional organization with about 1,000 members nationwide, are all seeing similar drops in revenue.

The dry cleaning and laundry services industry is one of the top 10 industries predominantly owned by minorities. It's estimated at least 52% of businesses are owned by minorities, according to the U.S. Small Business Administration.
It's unclear how many dry cleaning or laundry services are operating in California because the state doesn't require any form of industry accreditation, but the California Cleaners Association estimates there are more than 1,000 with the majority being minority owned.
Rahimzadeh said the problem with tracking the number of operations is related to language accessibility — being able to communicate with these owners. This problem is one of the factors that may be why minority business owners are suffering more from COVID-19.
"The one thing we have as immigrants is resilience. We are used to that shock factor of change. Most of us have gone through catastrophic events in the past" — Sassan Rahimzadeh

Management consulting firm McKinsey & Company released a report in May 2020 finding that "The crisis could disproportionately affect minority-owned small businesses for two critical reasons: they tend to face underlying issues that make it harder to run and scale successfully, and they are more likely to be concentrated in the industries most immediately affected by the pandemic."

McKinsey's research also suggested "the average minority-owned mature small business is 30 percent smaller than the average non-minority-owned mature small business.
Other experts say these smaller operations also are more likely to shut down.

Tom Tran, owner of New Life Chinese Laundry in North Park, agrees.

"We had accounts with hotels and schools, but they all shut down," said Tran, who suffered a 90% drop in revenue. "We are barely surviving with an SBA loan. The future is not looking good. The small dry cleaning businesses will close. The big ones will barely survive."

Tran, who immigrated to the U.S. nearly 40 years ago, said he's close to retirement after 20 years in the industry. But he worries about the impact on the larger immigrant community.

"You know, on the poor end, the blue-collar worker — they suffer so badly," he said. "If you have money, you'll be OK, but my neighbors are losing jobs, small businesses are closing. I hate to see that. But what can I do?"

A handful of dry cleaning business owners said the industry has suffered with people transitioning to a work-from-home environment. With the anticipation that more people will be working from home in the future, they are exploring other ways to stay afloat.

Rahimzadeh, of Arya Cleaners, said he's advertising other services such as cleaning household items, a wash-and-fold laundry service and delivery of items.

Nazii Mahdavi, the owner of Magic Touch Cleaners and Alteration in Little Italy and Point Loma, said she's doing the same.
"We're trying to do more advertising and more promoting of the business," said Mahdavi, who immigrated from Iran. "I'm going to stay in this business but i don't know how much longer we will survive."
Wesley Quach — business advisor and programs manager for the Asian Business Association, which has more than 500 members — said they're working on addressing obstacles that are common among minority business owners.
"One positive outcome of the pandemic is that we're working collaboratively with other groups to educate business owners," Quach said. "When the next disaster comes, they will be prepared."
When asked if he's worried about his future, Rahimzadeh paused with a chuckle.
"I can tell you — looking at what my father went through, leaving everything behind to come to a new country," he said. "My father was 50 years old when he immigrated to the U.S. He moved across the world with nothing. The one thing we have as immigrants is resilience. We are used to that shock factor of change. Most of us have gone through catastrophic events in the past. Do I have concerns? Absolutely. Do I wish I was in a different industry? Absolutely. But I believe that we will be OK."
Any city of San Diego business owners who are "small, economically disadvantaged or at-risk" can apply for a grant through the CARES Act. Applications are being accepted through Thursday, Oct. 22. For more information, go to bit.ly/Grants4SDBiz.