Life Without Conventions: San Diego's Downtown Businesses Find New Path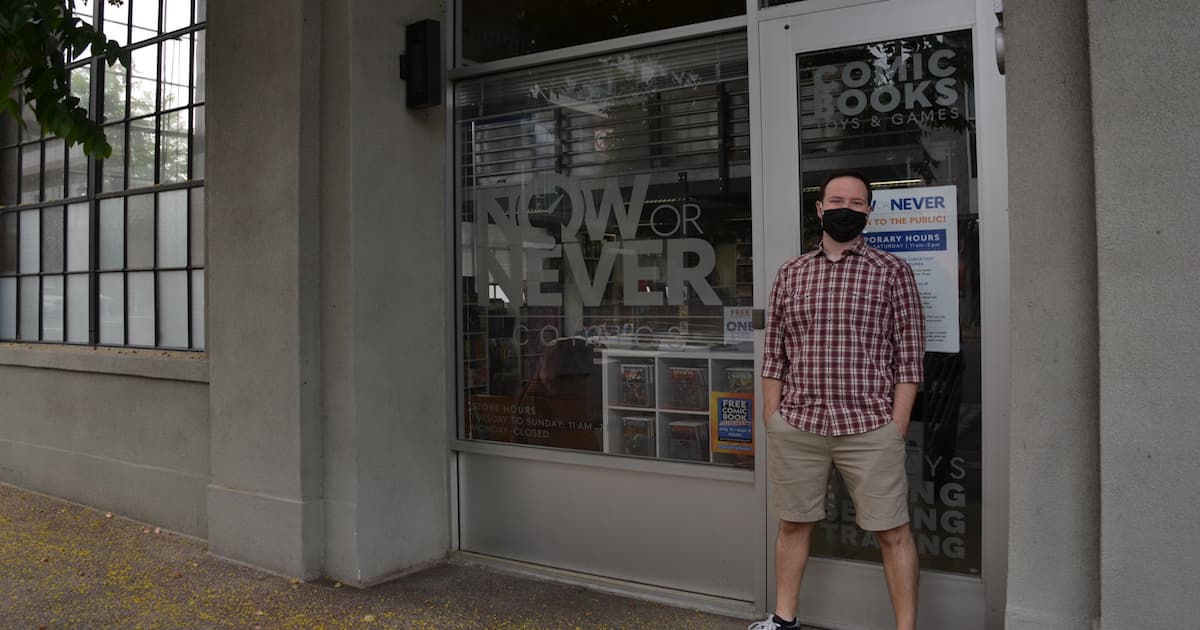 Created: 16 September, 2020
●
Updated:
14 August, 2022
Aaron Trites says he's always known he wanted to open his own comic book store someday. That day arrived in December 2018 when he opened the doors of Now or Never Comics in downtown San Diego, just a 20-minute walk from the Convention Center. It was better than he's ever imagined.
"San Diego is an amazing comic book city," said Trites. "July of last year was far and away my best month; not just for the few days of Comic-Con, it was the entire month — business was gangbusters."
Trites said revenue tripled during July 2019 so when Comic-Con was canceled this year due to the coronavirus, it was a "tough pill to swallow" because "the Convention Center is such a large part of San Diego's DNA."
Last year the Convention Center hosted 140 events, having an estimated $1.3 billion regional impact.
Although Trites hasn't seen the same foot traffic he saw pre-COVID-19, he has found success with online sales and regular customers. He's also seeing new business from customers steered his way by other comic book store owners forced to close their businesses.
"I'm fortunate that I'm still here and they redirected their customers to me," Trites said. ‍
'Doing Everything We Can'‍
Sean Green, who co-owns a handful of downtown eateries, including The Blind Burro, said the restaurant industry is "doing everything" it can to stay afloat. But the Convention Center wasn't the only source of patrons — downtown eateries also relied on customers brought by events at Petco Park, including Padres games.
"Our most successful weeks were when both conventions and the Padres were in town," Green said. "The fans come in droves and to see the Padres playing, and now they are playing with such a high-level of energy and excitement, so I can only imagine what the vibe should and would have been here in downtown San Diego if we were able to fully open. This would have most likely resulted in our best revenue numbers yet."
Green said his businesses saw the strongest numbers from March through October. This year, however, has been a "struggle."
"The reason it's such a hard pill to swallow is that those are the months we generate the majority of our profits which in turn helps to get us through the much slower winter months," he said. "At this point, we are working to salvage what we can out of the next couple months."
Peter Lemke, owner and operator of Gaslamp District Media, a decade-old marketing and events company, said they hosted more than 100 events annually prior to the coronavirus pandemic.
"We went to virtually zero income when March's shutdown hit," said Lemke. "March through September are typically $100,000 to $150,000 months for us."
In an effort to keep his business afloat, Lemke said he's transitioned to e-commerce and digital marketing for clients. And he took a big risk by opening his company's first-ever restaurant in the downtown area, Poke Vida, in late March despite the stay-at-home order.
Lemke said the restaurant is currently generating about 30 to 35 percent of the revenue he'd projected before COVID-19 struck. But, he's keeping Poke Vida afloat by introducing meal prep services and other offerings unique to the restaurant.
"We also expected to be opening our second location at this point of 2020," Lemke said. "We've had to extend the original timeline significantly due to COVID." ‍
'An Uphill Battle'‍
Business owners and leaders all said they recognize the uphill battle they face as they weather life without foot traffic from events. At the same time they believe the government could do more to support the downtown area.
"The government needs to be proactive and generous in the way they invite people back downtown," says Lemke. "They need to invest even more toward attracting people back to the downtown area. As business owners, we already have an uphill battle retaining our clientele, acquiring new clientele, and making customers feel safe coming out of a global health pandemic."
Blind Burro owner Green said the current system of opening and closing businesses based on the number of COVID-19 cases makes it difficult.
"What we need from the government is to make a clear decision," he said, emphasizing that opening up, closing down and then reopening with "revenue-suffocating restrictions has been difficult for all involved."
Betsy Brennan — CEO of the Downtown San Diego Partnership, a nonprofit, member-based organization advocating for economic growth in downtown — believes businesses would benefit from more government grants.
"We're advocating for even more money to prop up these businesses," she said. "In downtown, we have many small businesses that are minority-owned and they might not be able to get traditional financing for various reasons. We need other avenues of financing at the city or state level for these businesses to survive."
As downtown business owners navigate their way out of the pandemic, there's one thing the public can do: Support locally-owned businesses.
"Downtown San Diego is for everyone," said Brennan. "It's the heart of our region. We want to welcome families with children, young adults and everybody in between to come support downtown San Diego. Support our businesses so that we can all thrive."

‍