'I Miss Her': COVID-Induced Isolation Continues for Many San Diego Seniors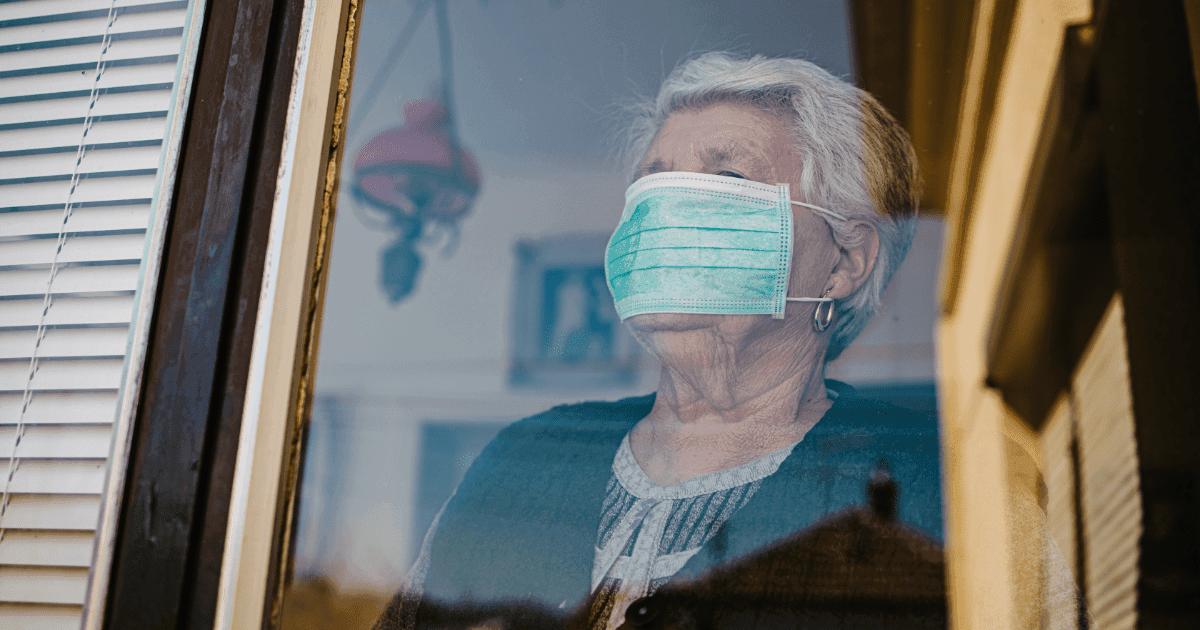 Created: 23 September, 2020
●
Updated:
14 August, 2022
Bankers Hill resident Rebecca Mitsingas lives just 5 miles away from her mother, Suzanne Papp, yet she misses her. She went from seeing her 77-year-old mother daily to rarely now because of the coronavirus.
"Typically, I would see her almost every day," Mitsingas said. "We would do dinner together at least once a week. Since COVID, it's been hard because I miss her even though she lives close by."
Papp is one of 400 living at St. Paul's Senior Services three facilities where the nonprofit swiftly implemented stay-at-home orders because health experts and doctors say seniors are most at-risk of the deadly coronavirus. Countywide, there are nearly half a million San Diego County residents over the age of 65.
Since March, some restrictions have been lifted at St. Paul's, allowing seniors more freedom outside of their apartments. It was two months before Mitsingas said she was finally reunited with her mother on Mother's Day. The two met at a park's picnic bench and sat on opposite ends while eating lunch.
Today, Mitsingas said she has seen Papp a handful of times but she tries to limit physical interaction.
"I feel like I should limit my visits to her because I want to make sure she's safe and she doesn't get (coronavirus)," she said. "It's not worth the risk in my opinion."‍
'It's Been a Very Lonely Time'‍
Back at St. Paul's Manor in Bankers Hill, Papp said she misses the freedom of going to places outside her apartment. She also misses her children, including Mitsingas, and running errands by herself.
"I like to pick my own fruit, meat," said Papp, who now gets her groceries delivered by St. Paul's staff. "That's been a challenge. I just tell myself it's temporary."
David and Marjorie Boice, a married couple who have lived at the facility since 2017, said they also miss their children.
"We've been in touch," said Marjorie, 86. "But being there to touch each other and love each other has really been lost. We think we are very blessed to have each other. We feel for the single people in this building who don't have someone to talk to day in and day out. It's been a very lonely time."
David, 88, said he has family members who live "just a short distance away" but is unable to see them because of the health guidelines.
"We wouldn't do anything to endanger their lives," he said.
Still, the isolation has been difficult, the three said. Papp said she has seen the toll it has taken on other residents at the facility.
"I know someone here who rarely leaves her home and is getting very depressed," Papp said. "I think that's a huge problem for a lot of seniors." ‍
'A Real, Emotional Challenge'‍
A study — conducted by Bei Wu, director of Global Health and Aging Research at New York University's Rory Meyers College of Nursing and published in June 2020 by the Global Health Research and Policy — delved into the effects of COVID-19 among the senior population.
"We still get multiple definitions of when someone is contagious," she said. "Which guidelines should we be following?"
Wu wrote that "(s)ocial isolation and loneliness are serious yet underestimated public health risks that affect a significant portion of the older adult population." At least 43% of older adults who lived in community-dwellings reported feeling lonely.
"The COVID-19 pandemic is increasing the number of older adults who are socially isolated including both community-dwelling older adults and nursing home residents, as many countries have issued stay-at-home orders and banned visits for nursing home residents," Wu wrote.
Wu wrote social isolation has been associated with "approximately 50% increased risk of developing dementia, a 29% increased risk of incident coronary heart disease and a 32% increased risk of stroke."
Isolation is what worries Cheryl Wilson, CEO of St. Paul's Senior Services, the most.
Wilson — who has been with the nonprofit for more than 30 years and oversees the services for more than 1,500 seniors across different programs — said isolation coupled with other factors has made the past six months difficult for seniors.
"The first thing is loneliness and isolation — it becomes a real, emotional challenge," she said. "When you're home alone as a senior, you watch a lot of television and the culture of fear that is being shared through the television. What they are always hearing (is that) the elderly are most vulnerable. That's very fear-mongering. It's not uplifting at all."
Wilson said her facilities are beginning to lift some restrictions and allow for more socially distant outings to keep seniors occupied. She, however, said government agencies need to work harder in sharing clear messaging to the public.
"We still get multiple definitions of when someone is contagious," she said. "Which guidelines should we be following?"
Wilson also urged the public to reach out to seniors, especially during this time.
"Call your grandparent," she said. "Tell them how much you love them. They need to hear that they are cared about and that someone remembers they are alive. One little thing can brighten the life of a senior."

Hear more of this story on Mightier 1090's "The Extra Point" at 6 p.m. Wednesday.