CTC Chair Hilary Norton Reflects on Sea Change in State Transportation Priorities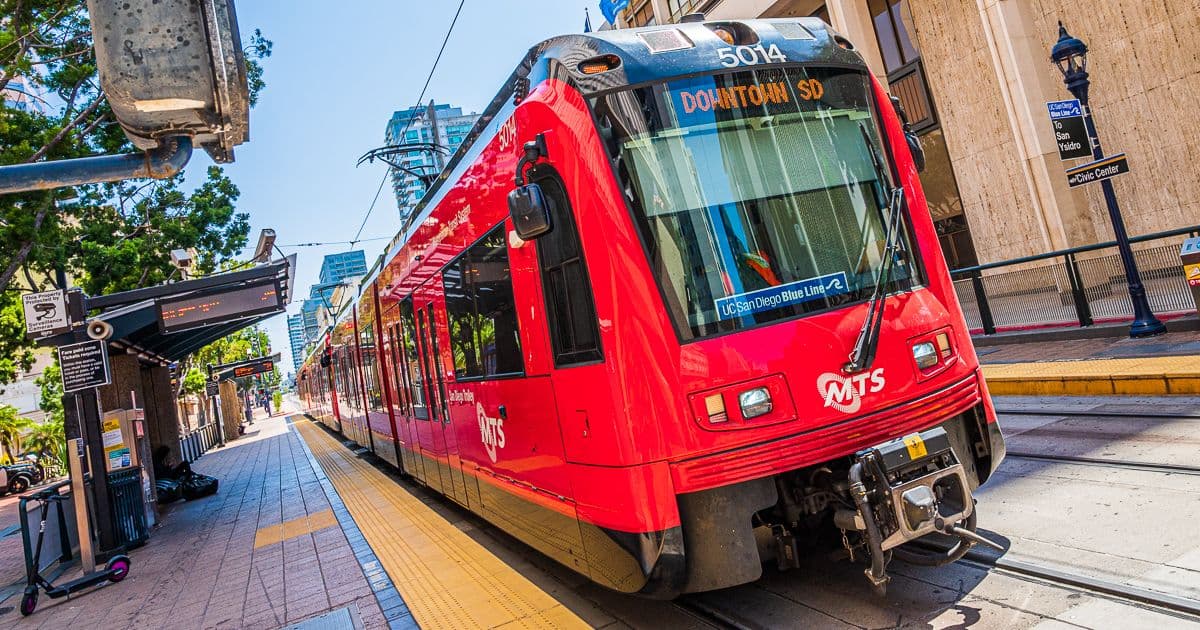 Created: 10 October, 2020
●
Updated:
14 August, 2022
In this TPR interview, Hilary Norton, newly appointed chair of the California Transportation Commission, reflects on the 'phenomenal sea change' driving state investments in transportation infrastructure and in advance of the 2020 national election. Citing Governor Newsom's "all of the above" approach, Norton shares her priorities for the CTC and enthusiasm for creative projects that maximize benefits—and generate revenues—to support a more active and equitable vision for transportation in California.
Hilary, it's a privilege to recognize both your appointment last year by Governor Newsom to the California Transportation Commission and your elevation recently to chair of the commission. What are Governor Newsom's marching instructions?
The day I was appointed last year was also the day the Governor issued the Executive Order on Climate Change, N-19-19. As we've worked on how to support smart growth, address climate change, and look at opportunities to create mobility solutions that offer triple benefits—whether they address housing and transportation or create additional jobs that help bolster our economy—what I have really admired about Governor Newsom, and the reason why this is the first time I applied to be on a state commission, is because I love his focus on 'all of the above.' It's all possible and it's all crucial in California, the fifth-largest economy in the world. And that was before COVID-19.
The Governor also recently released a new Executive Order on Climate Change, shining a spotlight on the importance of walking, biking, and micromobility solutions to reduce GHG emissions and Vehicle Miles Traveled (VMT).
I think he's expecting an agenda that is going to take all of my background—in the nonprofit world, the business world, and the elected office world—and put that to work on 'all of the above.' How do we make this all work when so many Californians are in need and we have an economy to revive? In a word: collaboration. We have to work together to address the critical needs of Californians, and especially those who have historically have been left out, marginalized, and overlooked.
The Governor also recently appointed Michelle Martinez to replace Lucy Dunn on the Transportation Commission. It clearly appears from these appointments that the commission is experiencing a sea change in leadership. What does that mean for future policy and state transportation funding priorities?
Commissioner Martinez and I have spoken many times and met in person at the Gerald Desmond Bridge tour. I look forward to her first CTC meeting in October and her perspective as a bike advocate.
From my 13 months on the CTC, I am now the "oldest" of five appointees on an 11-member body. In September 2019, Governor Newsom also appointed my friend Tamika Butler, who has moved on to do fantastic work leading the national conversation on equity and mobility. This spring, Governor Newsom also appointed Lee Ann Eager and Rocco Davis, and Speaker Rendon appointed Joe Lyou, adding to the body of CTC Commissioners who have been longtime advocates for transit and active transportation.
It's remarkable that in the last two years, we have a new Secretary of Transportation, David Kim, a new Undersecretary of Transportation, Ellissa Konove, a new director of Caltrans, Toks Omishakin, a new Executive Director of the CTC, Mitch Weiss, and five new commissioners out of 11—that is a phenomenal sea change in terms of what envisioning the future of transportation will be and its ability to have multiple benefits—and that's before we talk about Kate Gordon and the work she's doing with OPR. It's an exciting time to be a public policy person because so many people are eager to collaborate and are invested in the concept of California as a nation-state doing things differently and setting an example for the rest of the country.
My friend, Commissioner Lucy Dunn, will be missed on the CTC. Her experience and perspective on housing and transportation, and her stalwart support in the fight against Prop 6—which proposed to repeal SB1— were crucial for the CTC. And former CTC Chairman Paul Van Konynenburg was a terrific advocate for rural communities and freight.
The changes coming reflect the California of the future— a state that uses all its assets, including mobility and transportation infrastructure assets, to address our most critical issues of climate, equity, and economic development.
Your tenure on the commission overlaps the onset of the COVID-19 virus, which has put a strain on every institution and most especially on the financial capability of all our public institutions at the federal, state, and local levels. How are the pandemic's impacts reflected in the policies and investments being made and considered by the commission?
The CTC takes seriously that SB1 funds are real money out of real people's pockets.
The CTC and staff spends countless hours ensuring that we fund the best projects with the little money we have compared to the huge needs of California.
Something I'm particularly proud of – based on a lot of work with advocates, and in coordination with Caltrans and CalSTA – is that we will be conducting equity listening sessions that will be statewide and convening an Equity Roundtable. We're talking about where the need is, not only in a physical infrastructure sense, but in the human infrastructure sense. Where have the inequities been? Where were gaps created because freeways were built in a certain place? What are we doing about safety and equity of use of transportation assets? What are we doing about goods movement and the benefits and impacts of it on communities and the economy? It all interacts.
Now with the COVID-19 pandemic upon us, we also have to think about our best capability for leveraging federal funds and encouraging new federal stimulus or relief funding for transportation, particularly for our hard-hit transit agencies. We also need to continue to demonstrate that we are good stewards of our state funds. Through that example, we can encourage more counties to pass self-help measures to leverage scarce funding and support more mobility investments to meet an ever-growing need.
Well said, especially given your background in metropolitan Los Angeles and with FASTLinkDTLA. While LA is a self-help county, not all counties in California are self-help. As a Southern Californian in a very Northern California administration, what advice do you offer counties to better leverage state dollars and to enhance their local investments in transportation infrastructure?
We're trying to show what kind of investments reap multiple benefits and make people more aware of the cyclical nature of transportation projects. By improving safety and efficiency of roadways, our gas tax funds continue to generate economic activity that can then increase funds which can be used for various mobility options.
The same is true of making sure that our freight network is as efficient as possible and the freight corridors are as safe and uncongested as possible. The more that we can move freight throughout the state, the more sales tax we generate – and the more we can use those sales tax funds to fund transit and active transportation. As we're looking at how to create cleaner freight solutions, we've been told by the private sector that with "three turns a day" they would have more money to invest, on the private side, in clean fuel vehicles.
And so, how can we generate that in a self-help county way? Just because it is predicted that a certain amount of sales tax dollars will be collected doesn't mean that the receipts will actually be there. We have to continue to invest in the opportunity to generate the funds and to focus on an investment strategy that puts people back to work. When we create the jobs, we create the sales tax engine — which feeds into Measure M receipts — then you start building credibility. So when you have a Measure R that has far fewer sales tax receipts due to an economic downturn, people will nonetheless agree to support a new Measure M.
And to pass these measures, it takes a coalition. From local elected official champions to business leaders to labor to nonprofit advocates like MoveLA, the whole community has to be at the table. One of the best ways to coordinate need and investment on a daily basis is through transit management organizations like FASTLinkDTLA within the county. These entities are laser-focused on smart transportation investments and encouraging individual actions to change the mobility culture of an area, and they can be the catalyst and case study for a larger region to engage in conversations to take action, encourage new mobility activities, and seek new funding opportunities to create a new mobility ecosystem.
Is it fair to say, given the new Commission's membership, that there is increased interest in active transportation and in shifting away from the priorities of the 'old coalition of business and labor?' If so, how do you balance prioritizing active transportation with the need for roadways and freight infrastructure to work better and generate more revenues?
The CTC is far more than an "old coalition of business and labor," and while SB 1 rightly focuses on "fix-it-first" road projects, it actually funds far more than roads. The CTC, through SB1, is funding hundreds of millions of dollars of bike lanes, active transportation projects, and pedestrian safety measures. I'm delighted that within my tenure thus far, Caltrans is addressing the need to increase the concept of Complete Streets by $100M as part of the SHOPP program so that – where appropriate – highway projects that run through a local community are going to have Complete Streets components to them. There's still need for lighting, for better bike lanes, and for bike corridors along major bridges, like the new bike corridor on the Gerald Desmond bridge, which just opened October 5th.
As we have highlighted in our meetings, the projects that I've seen come to us for some of the major funding are really impressive in their ability to have multiple benefits. For example, the I-10 and I-110 express lanes and the Wilshire BRT weren't just about how to move cars better. We were going to fix Angelenos being stuck in traffic by getting them out of cars and traveling more efficiently. The Wilshire BRT and the 720 line has been running more efficiently, and the Silver Line on the Express Lanes has been one of the most successful bus lines in Metro's portfolio. The net toll revenue from those opportunities for people—yes, to still drive and pay for the cost of driving alone—was the reason we have Metro Bike Share and other active transportation projects. That initial investment was from Express Lanes Net Toll Revenue.
The cyclical nature of how things get done may involve improving a roadway, but it's not solely for the sake of single-occupant vehicles – it's for the sake of creating multiple mobility benefits such as bus-only lanes, cleaner transportation, and investments in more efficient goods movement.
I'm excited for the infusion of new leadership, and I'm also excited for the fact that I see CalSTA, CalTrans, OPR, and the advent of SB 743 helping to reiterate the need for an active transportation lens on everything we do, because we all are pedestrians first. We have to make sure that we're creating a network of mobility that doesn't make it dangerous to be walking or biking in California. We need to recognize that the commissioners who came before us cared about those issues, too.
One challenge, which you know well from your work in LA and now on the state commission, is that policy making in California is siloed. The State does transportation, housing, economic development, and health, but integrating these agency programs and funding into enhancing localities and creating vibrant nodes of healthy activity is daunting. How is/will the Transportation Commission be contributing to tackling the aforementioned challenge?
I think the CTC has to be seen at a 30,000-foot level, in a way. Our job is to invest in the projects that are going to fix our roads and highways, make our freight network more efficient, de-congest corridors and support transit and active transportation. We want to make sure people understand how SB1 funds focus a statewide vision to support multiple objectives: smart "state of good repair" investments, an enhanced freight network, and an expanded mobility network.
The fact is that regions are creating Regional Transportation Plans (RTP) and Sustainable Communities Strategies (SCS) that are all about creating active transportation, housing, and major transportation infrastructure networks and linking them together. We're working with the local entities to leverage these visions about comprehensive planning and the multiple benefits of infrastructure and affordable housing so that it all knits together.
We're not trying to dictate local planning; we're trying to integrate local plans with a statewide vision of well-repaired, well-running, state-of-the-art set of infrastructure solutions. We're very lucky that we get to fund the freeways at the 30,000-foot level and then fund ATP programs at the bike-lane level and pedestrian programs at the one-foot level.
I commend Senator Beall and Assemblymember Frazier, because they were very forward-thinking in how comprehensive our statewide network needs to be. Now with the pandemic and the economy that we're in right now, we also need to be thinking about how we put people back to work and how we're going to ensure that people can get to work in ways other than driving a car, such as biking, walking, or transit. We want to be a partner with local communities that seek to innovate and use transportation as a means to address other issues related to housing production, economic opportunities, and community health in general.
What has been the impact of COVID-19 on the Commission's priorities? With most commentators noting that the pandemic has revealed service and equity gaps and program inefficiencies, what will California's 'new normal' likely be—who's going to use transit, and what modes of transit will decline and grow?
The 'new normal' assumes that 'normal' was where we wanted to be in the first place. We didn't like where 'normal' was, and we were trying to innovate ourselves out of 'normal.' We were trying to plan ourselves out of 'normal' because 'normal' wasn't working. And, clearly, 'normal' had inequity and safety challenges, as well some of the worst congestion in the nation. I think what's interesting about where we're headed is that it put the future on turbo with de-congestion options such as telecommuting.
We now have an opportunity to work with this Governor, this administration, this legislature and a highly activated set of community advocates on what the possibilities can be if we do things completely differently. How do we continue to keep California's profound social experiment working? As the mother of Latino kids, that profound social experiment is very important to me, and I want to keep our diversity, our quality of life and our economy working, as well as our mobility.
But I think that people are looking at blue skies that we once had and how we went from the cleanest air to now, unfortunately, the dirtiest air. I'm hoping that "telecommuting plus transit" will provide us the flexibility to go into the office when it's not so gridlocked, or when we could have a more efficient trip.
Maybe there will be some hybrid options of how we're going to travel that allow us to still do things efficiently. If there was anything that COVID has taught us, it's that our behavior affects other people. But now, we see it in real time: the longer that we are only thinking about ourselves, the worse our economy and our community is going to be. If you don't wear a mask, this restaurant/business is going to go out of business, and people could get sick and die.
For the people who've really come to understand that, they've also realized what other behaviors they might be willing to do differently. Travel is definitely going to be one of those opportunities.
Pivoting to specific transportation policies —has the state's transition from 'level-of-service' to 'vehicle-miles traveled' impacted how the CTC now awards funding and the results you expect from such funding?
We'll have to see, but maybe it is going to encourage us to invest in things that are real VMT savers. Showing how we're going to address VMT is going to be interesting. We're now in meetings with OPR, CARB, and HCD regularly to talk about how we're going to "un-silo" ourselves, put our business cards down, and start talking about how we build the 3.5 million housing units that the Governor envisions so that we no longer have a housing shortage and job shortage, and young people aren't priced out of the state.
We want to figure out how we start growing in ways that people are going to be able to live here and afford the "housing plus transportation" costs that are part of California now and are pricing a lot of people out of the market and out of the state. How do we change that? COVID-19 has done a lot to show us what we're willing to do and what we have to do. And we're also finding that there were a lot of jobs that could be telecommuted and a lot that couldn't. This forces us to focus on where we build housing and jobs and the transportation options associated with those areas.
In what ways might CTC program funding be leveraged to expand the state's ZEV infrastructure and encourage heavy-duty vehicle decarbonization?
I will tell you that speaking as the former Chairwoman of BizFed, in terms of freight and trade and clean innovation, the private sector is willing to do its part if we can give them the access they need. Back when we first started the ExpressLanes, some of the biggest advocates were UPS and FedEx. Noel Massie, back when he was leading UPS locally, said he was going to upgrade the fleet if, under the new ExpressLanes program, they no longer needed two drivers in the vehicles to access carpool lanes. Once the ExpressLanes were built, UPS invested in a huge CNG fleet.
Time is money. One unusual hack to entice private sector investment is that CTC funds can help support getting drivers out of our cars, and cars out of the way of the freight. Let's invest more in Metrolink to get the cars out of the way of the trucks. Let's invest in ways that address the time issue as well as the capacity issue. We must start looking at the things that are going to actually help encourage investment in different and creative ways.
I'm very excited about not only where EV is going but where hydrogen is going. We are already rebuilding the bridges from the ports, which is a very important investment in EV travel because it reduces the steep grade to get out of the ports and has a lot of impact on how EV vehicles can perform in terms of drayage.
Lastly, with a national election on November 3rd, there could be a new federal administration in 2021 and a reset of national infrastructure funding priorities. What, as the new chair of the California Transportation Commission, would you hope is included in such a reset?
My hope for a federal infrastructure program would include a few crucial things. One, mobility infrastructure requires a lot of investment in an electrical grid and a broadband grid. In order to be able to have the kind of conversion at the levels we want, we have to have our electrical grid upgraded significantly, which is something the federal government should help invest in early and often. An expanded, resilient electrical grid is needed to power EV buses, EV streetcars, and EV cars and trucks. Broadband is the same way. If we are going to do ticketless travel or do all our wayfinding by phone, we have to have WiFi and broadband access everywhere, especially in communities of need that are already under-invested.
Next, we need to upgrade our roadway network and our freight network to the levels that meet demand, while making them more resilient to climate change. We have a fantastic port network that needs to continue to be the economic engine of the state that feeds into the rest of the country. I also think, and you'll not be surprised at this, we need to have an express lanes network statewide, but especially expanded in the LA region – because it works. The Silver Line busway is a success story because it has its own lane due to the ExpressLanes. We also need to have a "net toll revenue" policy that funds local community innovation and active transportation within the corridor areas.
If I could wave a magic wand, there needs to be federal investment in equity with a pot of money that goes to states that really demonstrate they want to put people back to work and address inequities. Just like there was a WPA strategy that brought back the economy back in the 1940s as part of the New Deal, we have to think about a WPA-type strategy to put people back to work nationally and state-by-state. I would like to see that investment in human capital on a federal level. I know that this Governor and this legislature are already thinking about how we put people back to work, so a partnership would be great.
That investment would then feed into the sales tax that we need to fund the measures, strategies, and the self-help counties around the state. You'll have the net toll revenues that will help support the active transportation projects and the gas tax money to continue to invest in the state of good repair of our roadways. We will also have the EV network that will allow us to start converting in ways that are comprehensive and a broadband network that will connect it all. Having the necessary funding to accomplish this agenda with the greatest amount of efficiency will be a great catalyst to bring our fifth-largest economy back to the place it was and the place it could be, and I'm excited for that.
This story was republished with permission from The Planning Report.