The must-pass Agricultural Improvement Act of 2018 (colloquially known as the "Farm Bill") is now subject to great controversy. Late Tuesday night, the House Rules Committee added a provision to the bill that would suspend the War Powers Act for the remainder of the 115th Congress with respect to Yemen.
This essentially would shut down any debate or vote on the US's involvement in the proxy war between Saudi Arabia and Iran, which US Reps. like Thomas Massie (R-Ky.) and Ro Khanna (D-Calif.) are trying to end.
https://twitter.com/RepThomasMassie/status/1072901621309411329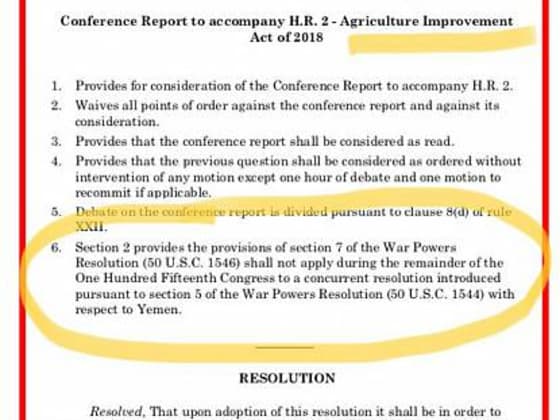 The Agricultural Improvement Act of 2018 is not a bill that relates to defense spending or foreign policy, so it has left many wondering why such a provision was added.
"This is why people hate Congress,"said Rep. Khanna. "Speaker Ryan is not allowing a vote on my resolution to stop the war in Yemen because many Republicans will vote with us and he will lose the vote. As a result, more Yemeni children will die."
It has been reported that over 85,000 Yemeni children have already died from war-induced famine, which does not count the many civilians who have died from bombings. This, plus the widely covered death of journalist Jamal Khashoggi has spurred a bipartisan group of lawmakers to act, not just to end involvement in Yemen but re-evaluate the US's relationship with Saudi Arabia.
The call to action has even united some seemingly strange bedfellows. US Sen. Bernie Sanders and Mike Lee (R-Utah, for instance, co-sponsored a resolution similar to the Massie-Khanna bill that the Senate was scheduled to vote on Wednesday.
https://twitter.com/BernieSanders/status/1072904513672093697
Several members of Congress have praised the bipartisan nature of the Farm Bill and the provisions with in they say will strengthen the agricultural sector. Yet Massie wonders how many of them know -- or care -- about what all the bill includes.
https://twitter.com/RepThomasMassie/status/1072797861182619648
A procedural vote was scheduled for Wednesday on the Farm Bill to determine whether or not will go to the floor for a final approval vote. Massie and Khanna hope they can get enough lawmakers to vote against moving the bill forward.
Photo Source: AP