Independent candidate Dr. Ann Diamond garnered enough votes in Washington state's 12th legislative district, position 1 Tuesday to place in the top two and advance to the November election. Dr. Diamond could now make history as she would be the first independent elected to the state legislature if she wins in November.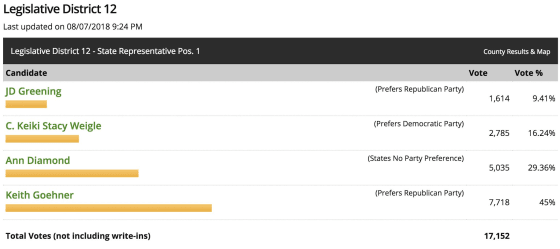 Washington state uses a nonpartisan, top-two open primary for state, US House, and US Senate elections. All candidates and voters (regardless of party) participate on a single primary ballot, and the top two advance to the November election.
In a field of four candidates, Dr. Ann Diamond took the second-most votes -- grabbing over 29% of the vote. Now, with just two candidates on the November ballot, Dr. Diamond is positioned to get a lot more attention than independents are accustomed to getting in elections.
Dr. Diamond received significant organizational support from groups like Unite America and Washington Independents. The groups made independent expenditures through radio, digital, and mail ads for Dr. Diamond, providing a layer of support that is often missing from independent campaigns.
Both groups believe electing independents, united by shared principles, is the key to a healthier legislative process.
"A very small number of independent members would be able to deny both political parties an outright majority and gain enormous leverage to break through the partisan gridlock – that's our ultimate goal," said Chris Vance, co-chair of Washington Independents and former GOP state chair and state legislator.
Stay tuned for more coverage on Dr. Diamond's campaign and more!