By 5-0, the San Diego County Planning Commission voted to support the New Lilac Hills Ranch community. The project will now go to the Board of Supervisors for final approval.
For several years the development has been a target for environmentalists who claim the project is too large for the community and will be detrimental to the environment.
The Planning Commission didn't agree with that assessment.
The New LHR Project
The New Lilac Hills Ranch consists of 608 acres in the Valley Center and Bonsall Community Plan areas. The previous developer of LHR placed a modified version of the 2015 project with Planning Commission recommendations on the November 8, 2016 ballot as a voter initiative called Measure B.
Voters turned down that measure.
In June of 2017, a new development team led by Ranch Capital submitted both a revised Greenhouse Gas Emission study and an updated 2018 Specific Plan.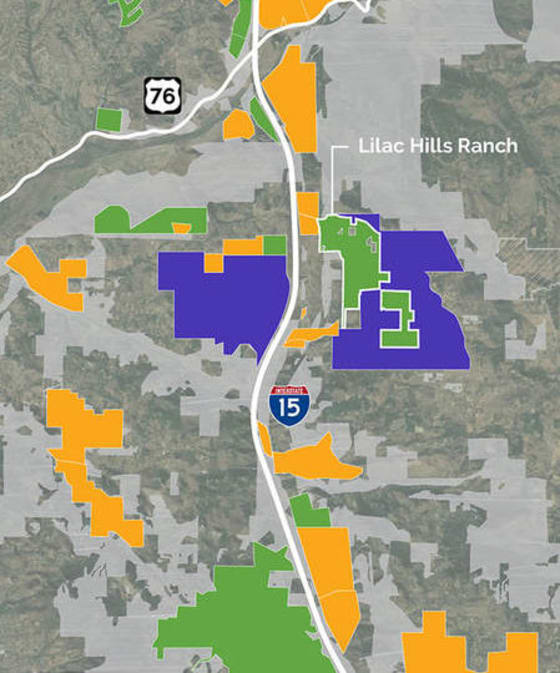 The New LHR added more than three dozen new features and community benefits, including
New K-8 school
8% reduction in traffic
New or expanded fire station and millions of dollars for fire equipment and services to improve coverage throughout North County
More than two dozen road and intersection improvements to enhance safety and ease traffic
Solar panels on every home, electric vehicle charging stations in every garage and reduced water use to protect our environment
Housing Crisis
This LHR team, much like the one that put forward the effort defeated by voters in 2016, has emphasized the critical housing shortage facing the San Diego region and how important  developments like LHR are to solving that crisis.
Following the defeat of Measure B, LHR representatives issued a statement that read, "This housing crisis continues, and our efforts to build this great community, Lilac Hills Ranch, doesn't end with tonight. We will continue our efforts to bring the community affordable housing opportunities with the greenest community in the county, Lilac Hills Ranch."
LHR is expected to have homes starting in the $300-600,000 range. LHR representatives say if approved by the Board of Supervisors, single-family homes should become available by 2020.
County Board of Supervisors
LHR is expected to go before the County Board of Supervisors in the fall. Each side will present their case to the Supervisors, who this time, will make the final decision on the development, not voters.