The Primary served as a nice appetizer for what will surely be a remarkable and critically important main course in November. Statewide there was not a "blue wave" as promised by Democrats.
Independents, now the second largest voting bloc in California, are certainly going to play a huge role in determining the statewide races.
For San Diego, here's what we definitively know following last night's election:
DISTRICT ATTORNEY
Summer Stephan is the next District Attorney. Voters resoundingly approved of her bid over Genevieve Jones-Wright.

BOARD OF SUPERVISOR, DISTRICT 4
Nathan Fletcher and former DA Bonnie Dumanis will battle for the 4th District Supervisor seat.
In the race to replace Ron Roberts on the County Board of Supervisors, Fletcher and Dumanis will no doubt have an intense battle for the seat. If voters thought they endured a lot of mail in the primary, see this IVN story, just wait for November!

SHERIFF
Sheriff Bill Gore defeated Dave Myers and will remain in charge of the region's largest law enforcement agency. In the hours following the election, Gore said he would work "more closely with state agencies" to ensure better coordination between law enforcement groups. The comments were in regards to SB 54, the Sanctuary State law.

CITY COUNCIL DISTRICT 4
This was perhaps the big surprise of the night and the drama of this race will continue into November. City Council President Myrtle Cole finished ahead of challenger Monica Montgomery by 150 votes. The two women vying for the seat differ in two areas that will no doubt be campaign talking points. Montgomery supports the subpoena power for the Community Review Board on Police Practices (investigates allegations of officer misconduct). Cole has not committed to this issue yet. The other possible difference is with Mission Valley. Montgomery doesn't support either of the plans of SoccerCity or SDSU West. Cole, because of her position on the council, hasn't weighed in on the issue.

CITY COUNCIL DISTRICT 6
When Measure K passed in 2016, the measure that forces all city council races to November, no matter if a candidate gets over 50%+1 of the vote, Councilman Chris Cate knew it would impact his district.
And it did.
Cate defeated Tommy Hough with 58% of the vote but Measure K stipulates that the most important decisions are made when the most voters are participating, which is clearly in the November General election, not the June Primary. Cate and Hough will square off in November.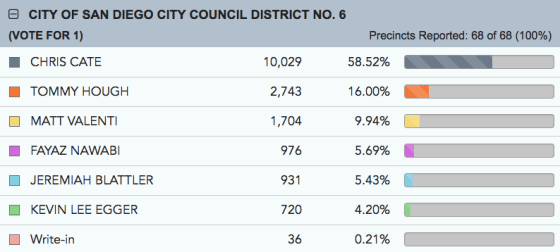 OTHER COUNCIL RACES
In District 2, Councilmember Lorie Zapf will face Jennifer Campbell in November. Zapf doubled up Campbell with 44% of the vote.
In District 8, the district left vacant by termed out Democrat David Alvarez, Vivian Moreno will face Antonio Martinez in November. Moreno has received 36% of the vote, Martinez has 27%.
PRIMARY TURNOUT
The drafters of Measure K and L had it right. The biggest civic decisions should not be made when voter turnout is roughly 30%, and that is about where this Primary election will finish. While about 30% is a pretty good result for a primary election, is still pales in comparison to the turnout expected in the November General election.
406,501 ballots have been cast. There are still 220,000 ballots outstanding.