https://www.youtube.com/watch?v=2QnWW689dR8
It doesn't matter if it is a Democrat or a Republican, ultimately it is the taxpayer who pays for bad behavior on Capitol Hill. US Rep. Jackie Speier says taxpayers have paid out $15 million in harassment settlements over a 20-year period.
Meanwhile, it's likely that the lawmakers involved in the harassment complaints are still sitting members of the US House, given the low turnover rate in Congress. The settlements are not all sexual harassment-related, and include complaints of racial, religious, or disability-related discrimination.
According to CNN, the settlements in these cases are not paid out of the accused lawmaker's office, but from a special fund within the US Treasury established by the Congressional Accountability Act -- don't miss the irony there -- in 1995.
So it's the taxpayers who literally have to pay the consequences for congressional indiscretions. Congresswoman Speier came out with this news as reports of sexual harassment in the workplace dominate headlines, including on Capitol Hill.
The latest controversy surrounds US Sen. Al Franken, who was photographed groping model Leeann Tweeden on a USO Tour in 2006. Tweeden discussed her experience with Franken on 790 KABC, where she says he also kissed her without her consent.
Franken was elected to the Senate two years later.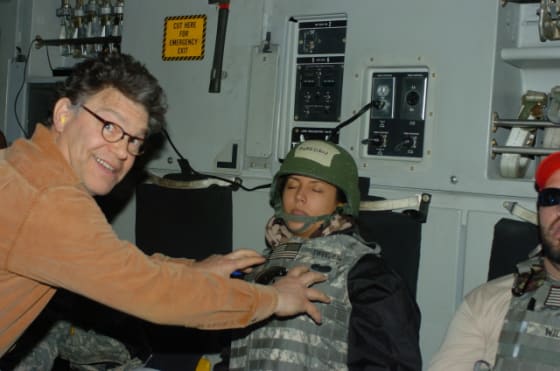 Franken released a statement Thursday calling for an investigation into himself.
"I respect women. I don't respect men who don't. And the fact that my own actions have given people a good reason to doubt that makes me feel ashamed," says Franken.
"Coming from the world of comedy, I've told and written a lot of jokes that I once thought were funny but later came to realize were just plain offensive. But the intentions behind my actions aren't the point at all. It's the impact these jokes had on others that matters. And I'm sorry it's taken me so long to come to terms with that."
In a hearing Tuesday, Rep. Bradley Byrne (R-Ala.) recommended reform that requires accused lawmakers to personally repay the Treasury, while House Speaker Paul Ryan announced that he would require all House members and staff to undergo anti-harassment training.
Serious steps being taken by Congress to deal with the problem...
Photo Credit: Tupungato / shutterstock.com