It probably comes as no surprise to many that Congress' approval among US adults is 16 percent, according to Gallup.
One would expect the approval rating among Democrats to be down, as Republicans control both chambers of Congress. Independents also have a low approval of Congress -- at around 16 percent.
But what is driving down Congress' approval rating more than anything is a huge drop among Republicans.
The latest congressional approval numbers published Wednesday, August 9, shows that approval among Republicans in particular dropped from 28 percent in July to 16 percent in August.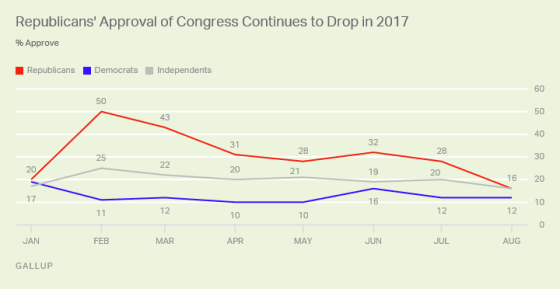 The GOP faithful seem to be losing faith in their party's ability to get one of its biggest campaign promises done -- repealing the Affordable Care Act. The Senate failed on multiple attempts and proposals to repeal and replace the health care legislation.
The national conversation as it pertains to Congress has largely been on Russia investigations and health care. As a result, every other issue that is important to the American people has fallen by the wayside.
"When members return from recess, they might find their attempts at less contentious measures, such as boosting infrastructure funding, more appealing to Americans -- which could ultimately improve their approval rating," Gallup suggests.
What do you think? Are you surprised by Congress' approval rating? What issues do you think they should be focused on?
Photo Credit: Golden Brown / shutterstock.com