SAN DIEGO, CALIF. - San Diego City Councilmember Scott Sherman (R) won re-election in San Diego's 7th District Tuesday night, avoiding a November election by winning approximately 62% of the vote. Sherman beat Democrats Justin DeCesare and Jose Caballero.
Sherman is broadly popular among his constituents in a district that includes Mission Valley, Tierrasanta, Serra Mesa, Linda Vista, Allied Gardens, Grantville, Del Cerro, Lake Murray, and Miramar. Of the over 22,000 district voters who voted in the race, 13,743 cast a ballot for Sherman.
San Diego City Council District 7 is a major race as it is at the heart of the controversy surrounding the future of the San Diego Chargers and the NFL staying in San Diego. The Chargers want to build a new stadium downtown and expand the San Diego Convention Center away from the waterfront. Sherman, along with other key political players in San Diego, want to keep the Chargers in Mission Valley.
Sherman supported a plan proposed by Republican Mayor Kevin Faulconer that would have allotted a $350 million subsidy to building a new stadium near the current Qualcomm site. He also envisioned a completely redeveloped area with new housing, shops, and restaurants.
Below is a rendering of Sherman's plan: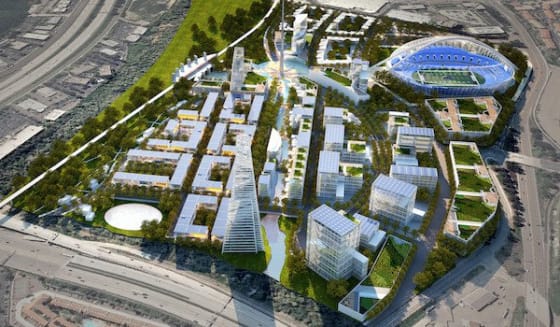 "A lot of times, people go downtown to the Gaslamp and those types of things," Sherman said. "They go there whether or not Petco (Park) has a game going on or not. The same thing could happen here."
DeCesare backs the Citizens Plan for Tourism Reform, publicly stating that he believes the best use of the Qualcomm Stadium site would be for park land expansion and higher education opportunities. Caballero has not endorsed any particular plan for the Qualcomm site to date.
Since Sherman was able to garner over 50 percent of the primary vote, there will not be a November general election for the city council district. Of the 5 city council races on Tuesday, only one race (Districts 9) will for sure extend to November as a result of San Diego's 50% plus one rule. As of this writing, District 1 is still up in the air.