As 2013 came to a close, Global Democracy Ranking published its annual report on the quality of democracy around the world, including a list of the best and worst democracies. Global Democracy Ranking is a non-profit organization based in Vienna, Austria and has been studying the growth and quality of democracy around the world for a decade.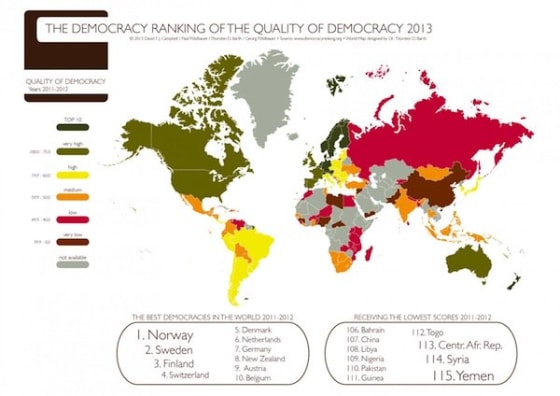 Wait. There must be some mistake. The United States is not on the list of best democracies in the world. There must be some anti-America bias involved because the U.S. is a shining beacon of democracy... At least, we used to be.
In case the list is hard to read:
Norway
Sweden
Finland
Switzerland
Denmark
Netherlands
Germany
New Zealand
Austria
Belgium
The findings take into consideration a number of variables, political and non-political, including freedom, economy, knowledge, health, gender, and the environment. Check out the full list here.
The United States, according to the report, ranks 15th in best democracies in the world. America's political system received a score of 85.9 -- down slightly from the last report -- but what is dragging the U.S. down the most are its scores in environment and knowledge -- 42.8 and 71.3, respectively.
Total, the U.S. received a score of 78.8 -- a C+ -- which is 1.1 below the next best country, the United Kingdom. Looking at the number one country on the list, Norway received a total score of 88.3. Its political system was given a score of 99.1, which is the closest any country came to a perfect score.
Norway has a parliamentary system with a unicameral legislature. Representatives serve 4-year terms and are elected by popular vote. The country uses proportional representation.
Does this mean the U.S. should have a similar political system as Norway? No. But, the results of this study do highlight key areas where the United States should strive to improve. We can even improve on the current political system we have by improving elections to ensure accurate representation which could help boost the political system score.