Ontario Mayor Paul Leon during a press conference // Credit: Thomas R. Cordova/Daily Bulletin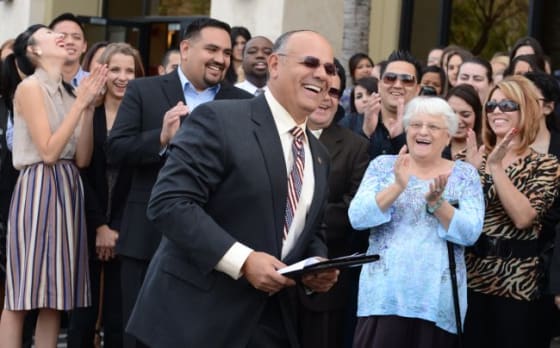 On Tuesday, California held a special primary election for Assembly District 52 that could have far reaching consequences for both parties in California's Legislature. The 52nd Assembly District represents parts of cities in San Bernardino, Chino, and Pomona within the Inland Empire of Southern California.
AD 52 is up for grabs between candidates Paul S. Leon (No Party Preference) and Freddie Rodriguez (Democrat) after Democrat Norma Torres vacated the post in order to begin serving as State Senator from the 32nd district on March 12 of this year. Ms. Torres leaves behind a predominately Hispanic/Latino voting district, with an estimated 68 percent of the district identifying as such.
Mayor Leon (NPP) entered the race with expectations that he would be one of the two candidates selected in the primary election. Currently the mayor of Ontario, Calif., Leon recently ran in the special election for Senate District 32 on March 12 earlier this year.
Unlike Mayor Leon, Rodriguez has been endorsed by the Democratic Party and is currently serving his 7th year on Pomona's City Council. The runoff election will be the first head-to-head election of Mr. Rodriguez's political career.
Nine candidates were on the ballot for the special primary election, with seven Democrats, one Republican, and one candidate who declined to state a political party. Although AD 52 is a firmly Democratic district, of the three candidates who received the most votes, only one was a Democrat.
When there are seven candidates, it can be difficult for the average voter to determine which candidate ultimately is more sympathetic to their personal views. Not only this, but 9.2 percent of eligible voters participated in San Bernardino County and 8.1 percent in Los Angeles County — ultimately only 15,244 votes were cast out of a registered voting pool of 174,057 as of 10:30 pm Tuesday.
The special primary election saw 15,244 total votes recorded, with 10,611 from San Bernardino County, and 4633 from Los Angeles County. Mayor Leon received 3,828 district votes (28.7 percent), while Rodriguez received 3,292 votes (17.2 percent). Third place was awarded to Republican candidate Dorothy Pineda, who received 1,725 votes.
The special election proves to be an important one for California Democrats. Losing AD 52 would significantly thin out their supermajority in the Assembly. Assembly District 45 will also hold a special election later this year.
With a legislative supermajority at stake, Democratic leaders will surely be monitoring the outcome of the runoff election between Leon and Rodriguez on September 24, 2013.