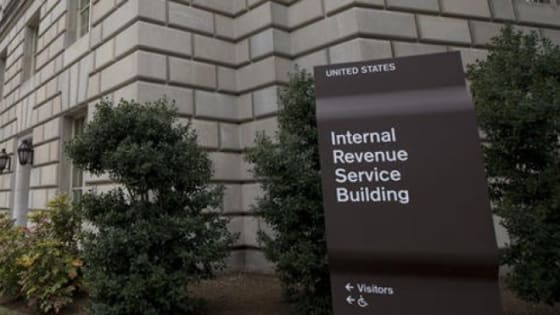 In the wake of the recent scandal, a growing number of conservatives targeted by the IRS are coming forward.
Justin Binik-Thomas of Ohio, whose name was specifically singled out in an IRS questionnaire, was one of them. Question 26 of the paperwork sent to the Liberty Township Tea Party in March 2012 stated as follows: "Provide details regarding your relationship with Justin Bink-Thomas ."
He felt the IRS questioning a single person's association with an organization was troubling enough, but what he found most alarming was the fact that he'd never had any connection to the Liberty Township Tea Party prior to discovering his name had been listed in the letters they received. In addition to Justin being singled out, the letters demanded -- under threat of perjury -- to indicate whether anyone with the organization or their family were intending to run for public office in the future.
Both Binik-Thomas and the Liberty Township Tea Party have been seeking answers as to why such intrusive questions were asked.
Binik-Thomas, owner and consultant with Conservative Media, LLC, attended the hearing on the scandal last week before the House Ways and Means Committee. His story was specifically mentioned in two different lines of questioning by Representatives Pat Tiberi (R-OH) and Erik Paulsen (R-MN).
Paulsen asked if it was standard procedure for the IRS to target a specific individual's involvement with an organization with which they've never been affiliated. Outgoing IRS Commissioner Steven Miller, responded, "So, it can be depending on the facts. Based on, is there a contractual relationship that could be an issue? Is there undue influence going on in some fashion?"
Paulsen prodded further, referring to Tiberi's previous questioning in regards to Mr. Binik-Thomas being singled out. Miller responed, "I don't know what we're talking about there. It's on an individual case and I really should not, and cannot speak to an individual case sir, I'm sorry."
Dissatisfied with the responses from IRS personnel during the hearing, Mr. Binik-Thomas plans to continue telling his story and seeking answers. Chief among his concerns are why he was specifically mentioned in these letters -- never mind that he'd never been affiliated with them -- what information regarding him was sent to the IRS, with whom this information was being shared, and what is to be done to reassure him that it won't occur again?
To date, Mr. Binik-Thomas says he still has not received any personal notification addressed to him directly from the IRS concerning such matters.
Similar to Mr. Binik-Thomas, Jason Hoyt of Florida claims he was specifically targeted by the IRS. Hoyt, a tea party organizer, says when he and other tea party activists from Central Florida sought to create an organization and file for tax-exempt status, they were shocked to see the questions they were sent.
As he notes in his blog post that documents the story, the questionnaire asked for details that Hoyt and the Central Florida Tea Party feel were too inquisitive. In particular, Hoyt found the efforts of the IRS to investigate their organization and him personally without their knowledge to be quite troubling.
Hoyt said that while many applying for tax-exempt status are asked to provide details regarding their respective websites, the IRS searched and found their site that had not even been made public yet on their domain name. In addition, Hoyt claims IRS personnel printed copies of a website from 3 years prior regarding a radio show he used to host, but was never, in anyway, affiliated with the Central Florida Tea Party.
Hoyt said the IRS demanded that if these sites were not in connection to him or their organization to explain -- in essence demanding that they prove a negative. The questions mentioned Hoyt further as question 5 asked since he was named the executive director of their organization, who made that decision, what other candidates were considered for the position, and mandated that they provide minutes of these proceedings.
Hoyt said there has still been no clarification as to why his name was singled out or why such efforts were made to seek websites and other information that seem either non-public or irrelevant.
When asked his thoughts on the matter, he expressed a deep concern that the culture of the IRS is "guilty until proven innocent".  Hoyt stated further that considering stories like Catherine Engelbrecht's, who was reportedly harassed by not only the IRS, but various federal agencies -- including the FBI -- after applying for 501(c)(4) status, this appears to be a "multi-agency affront."
Hoyt went on to say that should it be found that the targeting of conservative groups was a deliberate attempt to stifle the progress of these organizations, "they were successful" because due to the cost of compliance, he and others in the Central Florida area are no longer seeking to form said organization.
The issue of the IRS deliberately attempting to thwart certain organizations from moving forward with their tax-exempt status based on ideology or stance on public policy has obviously become a hot topic of discussion. Reports from the USA Today claim that while known liberal groups were being streamlined in their application process, tea party organizations were being delayed repeatedly.
Such is the case for CompactforAmerica.org, who applied for (c)(4) status on July 31, 2012 and as of yet has not been resolved. Dr. Kevin Gutzman, a member of the board of advisers, said that in September of last year, they received notice that their application had been sent for "special investigation" to the office overseeing exempt organizations, (whose former commissioner is now head of the IRS office responsible for overseeing the new healthcare law) but have had no further notice.
Gutzman, a New York Times bestselling author and history professor at Western Connecticut State University, said the most disturbing aspect of these scandals is that it isn't necessary for the IRS to send intrusive letters or harass people -- they can simply tell them to wait and ignore them if they so choose.
Gutzman emphasized that Compact for America was a nonpartisan organization with members from across the political spectrum, but he feels that due to the group seeking the passage of a Balanced Budget Amendment, they were targeted. Because the organization is operated by legal scholars and various academics, including a federal judge, Gutzman said he's not surprised the IRS wouldn't bother them with "extraneous paperwork."
Unlike the previous cases mentioned, Gutzman said they never received any invasive questionnaires.
He echoed much of the concerns being discussed by conservative figures that it appears anyone not "Obama-friendly" is being denied equal access to tax-exempt status. He would further stress, however, that this is not the result of partisanship, but a structural problem; regardless of party, the amount of power the IRS holds inevitably leads to such scandals.