According to a recent Digital Policy Council (DPC) report, 75% of politicians are on Twitter worldwide, whether it be by name or on behalf of their country. In a summary of the findings, they report:
"A total of 123 world leaders out of 164 countries have accounts on Twitter set up in their personal name or through an official government office. In our last report in August of 2011 only 69 out of 164 countries were using Twitter."
That's a 78% increase in the number of politicians on Twitter from 2011 to 2012: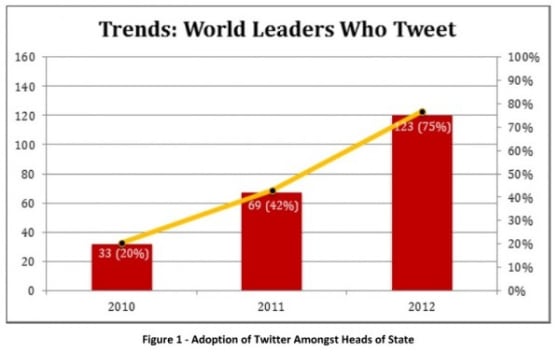 In line with the growing intersection of social media and politics, Twitter has become an invaluable resource for leaders to connect with and inform their constituency. Redefining the way we consume news, Twitter and politics now go hand in hand.
We often think of this phenomena as being uniquely American. During the 2012 presidential election, American Twitter users flocked to the social network in record numbers. President Obama's speech during the Democratic National Convention had users tweeting 52,757 tweets per minute, a record he broke shortly after. Thirty one million election related tweets were sent on Election Day. A tweet sent by President Obama after his victory generated over 800,000 retweets and over 300,000 favorites.
Americans, however, were not the most active Twitter users in 2012. A GlobalWebIndex report reveals that China is home to the most active Twitter users in the world. Yes, China. Even with a ban on the social network, 35.5 million Twitter users in China make the country the most active in the world. To put it in perspective, one fourth of Twitter users are from China.
This trend is not, however, reflected in Digital Policy Council's ranking of the most influential leaders on Twitter, for obvious reasons. Below is their list of top 10 ranking world leaders on Twitter, based on number of Twitter followers:
Barack Obama - United States - 25.6 million
Hugo Chavez - Venezuela - 3.8 million
Abdullah Gul - Turkey - 2.6 million
Rania Al Abdullah - Jordan - 2.5 million
Dmitry Medvedev - Russia - 2 milllion
Dilma Rousseff - Brazil - 1.8 million
Cristina Fernandez de Kirchner - Argentina - 1.5 million
Juan Manuel Santos - Colombia - 1.5 million
Enrique Pena Nieto - Mexico - 1.4 million
Mohammed bin Rashid Al Maktoum - UAE - 1.3 million
Interestingly, India's Twitter presence did not make the top ten list, despite having the second highest number of active Twitter users in 2012. President Obama maintained his ranking as the most followed world leader on Twitter while gaining 15 million followers since the 2011 report, but would you have guessed numbers 2-10?
Also focusing on the political use of Twitter across the world, e-diplomacy, developed by Agence France Presse (AFP), maps out interactions of diplomatic actors on Twitter, analyzing and visualizing tweets. States and individual actors are ranked based on interactions to create an interactive platform that allows users to follow diplomacy in real time.
Are you on Twitter? Make sure to check out @IVNetwork on Twitter while you're there.