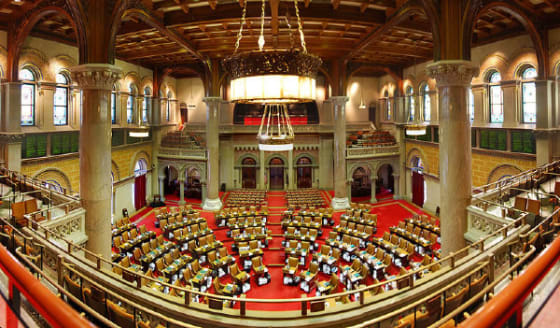 Prior to the November elections, the New York State Legislature was divided between the Republican-controlled Senate, headed by Dean Skelos, and the lower chamber under the leadership of Assembly Speaker Sheldon Silver (D). The November elections not only strengthened Silver's majority, but gave Senate majority back to the Democrats until a senator from New York City placed a hold on that transfer.
State Sen. Jeff Klein (D-Bronx) and four fellow independent Democrats joined with the Republican conference to create an independent Democrat-Republican coalition majority. This came about in the weeks following the elections while at least one state senate seat was undergoing a recount.
In this case, "independent Democrats" refer specifically to members of the Independent Democratic Conference (IDC). It was formed after the 2010 elections when Klein and his fellow Democrats lost their hard fought majority in 2008 and Klein lost his deputy leadership role.
Their votes played a pivotal role in controversial bills ranging from ceasing teacher layoffs based on seniority to state budget issues, favoring spending cuts. Sen. Klein's stated purpose is to work closely with Gov. Cuomo and Sen. Skelos, breaking down the partisan walls and building consensus.
Democratic Legislative Campaign Committee's spokesman Daniel Roth stated:
"The people in New York voted overwhelmingly for Democrats to represent them in the legislature...This gamesmanship goes against the voters of New York. Ultimately they will have to go back to their districts and explain themselves."
Although the move spurned some traditional Democrats by denying them leadership positions they would have otherwise received, the goal is to increase bipartisanship through more equal power-sharing. As it stands now, Klein will share leadership responsibilities, such as deciding what bills come up for debate and committee assignments, with Skelos.
An important piece to this story is the 46th Senate seat, which was newly created during the previous Republican-led 2 years. That contest between Democrat Cecilia Tkaczyk and Republican George Amedore is due to reach the appellate court on January 7.
This dynamic, however, will present new questions on what the legislative agenda will be like in 2013. Gov. Andrew Cuomo has a successful record of dealing with moderate Republicans on a variety of issues so it may not hinder his progressive ideas as much as some Democrats possibly fear.
Gov. Cuomo has remained silent while waiting to see if the coalition holds and will help push through legislation that he supports.
Sen. Klein stated that many issues fought for by the Democrats will receive more attention in 2013:
"Working with the governor and our colleagues, I know that we will pass some major progressive reforms, such as an increase to the minimum wage, a reform of stop-and-frisk and serious campaign finance reform. I'm extremely confident that these issues will come to the Senate floor for a vote and I fully expect them to pass the Senate."
The IDC members can vote either way, lending their vote to support Cuomo's conservative ideas on spending cuts to the more progressive minimum wage increase. The minimum wage issue and campaign finance debates was stalled by Sen. Skelos, causing some Democrats to feel that this was more of a Republican-led coup to stay in power after losing more seats in the election.