If you've ever used the social platform Twitter, you are probably familiar with the "trends" column located on the left-hand side of your account. Sometimes political, but more often relating to pop culture, the trends category is reflective of what topics and categories are most talked about on Twitter, and tend to identify topics that are immediately popular.
As of now, trending topics are identified based on an algorithm, giving Twitter little to no control over what topics appear and spread on the social platform. While this creates an entirely user-generated platform, a recent controversy in France illuminates the conflict between freedom of expression and the obligation of the state to prevent incitement when hateful speech is perpetuated on the social network.
Prompted by the recent debate over same-sex marriage in the country, the hashtag #SiMonFilsEstGay, or "If my son is gay," started trending in France on December 22nd.
Trending for several days, the hashtag generated thousands of violently offensive tweets, blatantly targeting homosexuals solely based on their sexual orientation. Preceding this incident, #UnBonJuif or "A good Jew" led to an uproar of antisemitism on the social network, followed by hashtags such as #SiMaFilleRamèneUnNoir or "If my daughter brings a black man home."
Under French law, such tweets are illegal and as articulated by French minister Najat Vallaud-Belkacem, "those who make them are not less punishable and less likely to appear in court because they appear online." Among teenagers, she notes, homophobic violence, both verbal and physical, is the number one cause of suicide.
Demanding cooperation from the company on censoring speech on Twitter in the country's efforts to deter hate-based speech, she continues:
"At a time when the government is implementing a program of action against violence and discrimination committed because of sexual orientation or gender identity, I wanted, without prejudice to any legal action, to call the sense of corporate responsibility Twitter inc., for it helps to prevent and avoid such excesses."
"Those who make them are not less punishable and less likely to appear in court because they appear online," French minister Najat Vallaud-Belkacem said.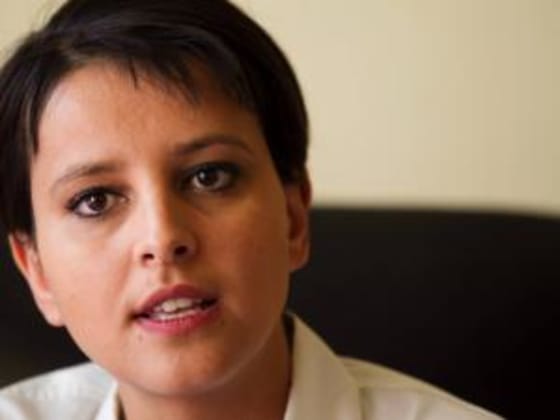 Currently, a 2012 Twitter policy makes clear that the social network has "the ability to reactively withhold content from users in a specific country -- while keeping it available in the rest of the world." Vallaud-Belkace suggests reforming the way in which Twitter operates to allow for security measures to be put in place to prevent speech from spreading. Essentially, she is calling on Twitter, an American company, to censor speech in France because it violates French law.
For Americans, even the idea of censorship invokes chills. We have placed unparalleled importance on our civil liberties and value our right to freedom of speech, ultimately branding censorship a curse word. In a country where equality is valued just as much as liberty and fraternity, however, the practice of sacrificing certain rights in favor of a more equal nation are not novel. While the American Revolution touted values such as life, liberty, and the pursuit of happiness, the French Revolution explicitly emphasized equality, making such restrictions commonplace for the county.
How, then, should Twitter respond to the complexities and opposing values inherent in different codes of law? While the government in France endorses state regulation of speech, the values derived from the American Constitution favor freedom of expression. Should Twitter place certain filters on "hate speech" in accordance with a country's legal code?
The Gaurdian's Glenn Greenwald's argues that the determination of hate speech is based upon majority belief, and if history has taught us anything, it's that majority belief is not always right:
"Nothing has been more destructive or dangerous throughout history - nothing - than the power of the state to suppress and criminalize opinions it dislikes. I regard calls for suppression of ideas as far more menacing than - and at least just as hateful as - bigoted Twitter hashtags and online homophobic jokes."
Whether or not Twitter implements a sweeping policy for of all speech on the platform or tailors regulations based on legal code remains to be seen, but as we enter into a new frontier of digital speech, such discrepancies require further legal discussion.