Credit: www.inouye.senate.gov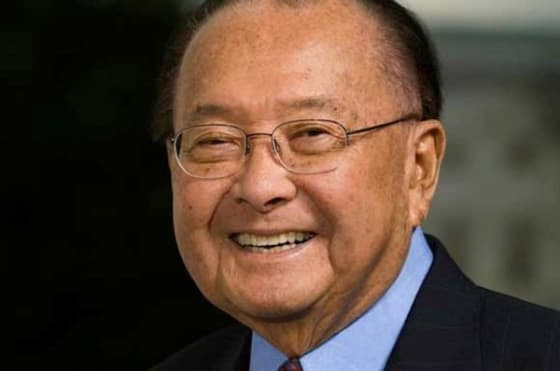 Hawaii Senator Daniel Inouye (D) passed away on Monday from respiratory complications, according to his office. He was the most senior member of the US Senate and the chamber's president pro tempore.
Out of the fifty-three years Hawaii has been a part of the United States, Daniel Inouye ((in-NOH'-way) has served its constituents in the Senate for fifty of them. He has answered the call to service his entire adult life. He enlisted in the military after Pearl Harbor and lost his arm charging machine gun nests in Italy. Inouye later received the Medal of Honor.
Sen. Inouye was not only the Senate's most senior member and second longest serving member in US history, but he was also the first Japanese-American to be elected to Congress. He was Hawaii's first congressman, serving one term in the US House before becoming one of only five senators to represent his state to date.
In a time when people talk about partisan division in Washington, the country lost a Senator that emphasized the importance of bipartisan leadership and often attempted to hold elected officials accountable to the people who voted them into office. Throughout his entire life, Sen. Inouye showed dedicated patriotism.
"In Washington, he worked to strengthen our military, forge bipartisan consensus, and hold those of us in government accountable to the people we were elected to serve," President Barack Obama said. "But it was his incredible bravery during World War II -- including one heroic effort that cost him his arm but earned him the Medal of Honor -- that made Danny not just a colleague and a mentor, but someone revered by all of us lucky enough to know him."
After Senate Majority Leader Harry Reid (D-NV) announced on the Senate floor that Daniel Inouye had passed away, members of both parties took time to honor him for his service. Reid called him a "giant in the Senate." Mitch McConnell (R-KY) praised his service as the mark of "men who lead by example and expect nothing in return."
As the Senate president pro tempore, Sen. Inouye was third in the line of presidential succession behind Vice President Joe Biden and Speaker of the US House, John Boehner.
Since he served Hawaii since the state joined the United States, Inouye has been a very important figure to his constituents. He was also a very popular Senator. No only did he win his ninth consecutive term in 2010, but he won with 75 percent of the vote.
Sen. Inouye passed away at Walter Reed National Military Medical Center with his wife and son at his side. According to his office, Inouye's last words were "Aloha," which is a traditional way of saying both 'hello' and 'goodbye' in Hawaii. He was 88.