SantaCon event in NYC. Credit: jpgmag.com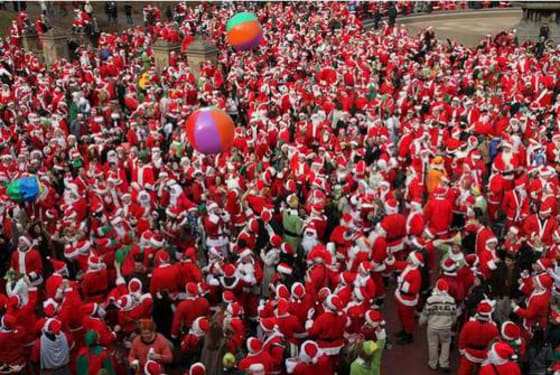 Last Saturday, SantaCon hit the Gaslamp Quarter. San Diegans donning Santa costumes visited McFadden's, Henry's Pub, The Local, Hennessey's Tavern, Hooters, and Dick's Last Resort during the bar crawl, Christmas extravaganza. It was event not to be missed, but if you did miss it, you're in luck because San Diego is hosting TWO SantaCon events this year!
This Saturday, December 15, North Park continues its SantaCon tradition. The celebration will be going on all afternoon and does not have a bar crawl itinerary, embodying the North Park community's free spirit. Just be ready to dash through the streets in your Santa Claus outfit, be you a traditional Santa, hipster Santa, or sexy Santa.
In 1994, the blessed SantaCon tradition began in San Francisco and has since flourished into a global phenomenon, reaching from Adelaide, Australia to Brussels, Belgium.  Join the festivities to grab some drinks from your favorite spots in North Park with your closest Santa Claus friends. And make sure to bring some canned food items to benefit Mama's Kitchen of San Diego.
//