Photo credit: theworldisraw.com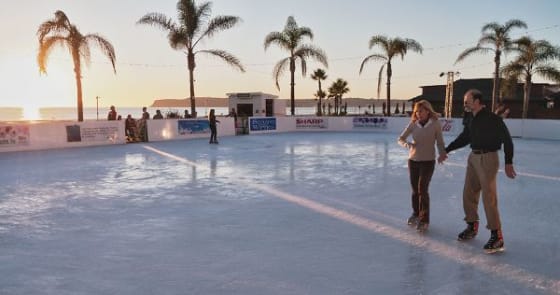 So You Wish You Could Skate is the title that has been given to the first Skating by the Sea competition to be held at the Hotel del Coronado's ice skating rink tonight at 6:30pm. A unique spin off of the television show So You Think You Can Dance, the event will entail a skating competition with five teams participating - composed predominantly of local media and celebrities. A portion of proceeds from the skating rink will benefit the Make-A-Wish Foundation of San Diego.
"The Del" as it is commonly known, has been hosting Skating by the Sea for the past eight years. Contrasting the warmth and atmosphere of the Pacific Ocean to the compact ice skating rink, the hotel has created an original southern California winter experience. Adults and children alike flock yearly to the hotel to partake in their holiday festivities. Hosted on the oceanfront Windsor Lawn of the hotel, the skating rink remains operational from November 21 to around January 5.
Rink operational hours are as follows:
November 21 - December 14, January 2-5 2pm - 5pm Daily 6pm - 9pm Daily Weekend & Holiday Matinee: 11am - 1pm
December 15 through January 1 Matinee: 11am - 1pm Daily 2pm - 5pm Daily 6pm - 9pm Daily
Three hour sessions costs $25 for adults and $20 for children (ten and under), while the two-hour matinee costs $20 for adults and $15 for children (skate rentals included).
With the holiday season in full swing, and though cold weather is typically not dealt with in San Diego, the skating rink is a great event for families and individuals alike. Regardless of one's skill level, ice skating is a winter pastime that should never go out of style.
//