Credit: Chicago Tribune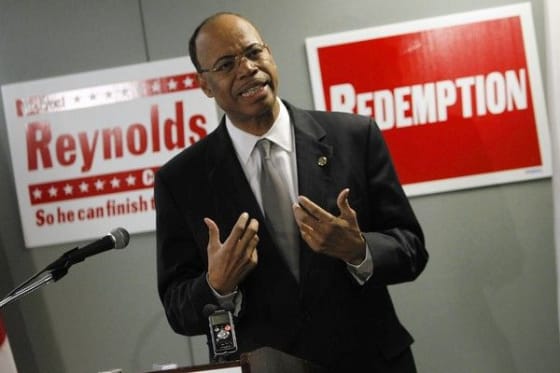 Former Democratic congressman Mel Reynolds from Illinois' second district is making another go at winning a seat in the US House of Representatives. He is looking to replace Democrat Jesse Jackson Jr, who resigned on November 21, 2012.
Reynolds will run for the same seat he occupied from January 3, 1993, to October 1, 1995. This time, however, he is running after being convicted of statutory rape of a 16-year-old campaign volunteer and receiving a commutation by former President Bill Clinton.
Mel Reynolds' political career began with two unsuccessful attempts to unseat Democratic incumbent, Gus Savage, in 1988 and 1990. He finally succeeded in March 1992 when he defeated the incumbent in a primary election. He went on to win Illinois' second congressional district in the general election against Republican Ron Blackstone and third-party challenger, Louanner Peters.
Even though he was a political outsider, Reynolds succeeded in getting a seat on the House's Ways and Means Committee in his first term, an achievement that marked the first time in fourteen years that a freshman was given a seat on the committee.
His first term was also marked by a highly controversial vote in favor of NAFTA (North American Free Trade Agreement), which incurred the wrath of organized labor leaders who opposed it. However, since NAFTA was supported by President Clinton, Reynolds received the president's gratitude, which helped him in his 1994 re-election effort. While Reynold's congressional career was off to a significant start, it would soon come to an end through a series of legal issues.
Reports surfaced that he owed thousands of dollars in educational loans and campaign debts. Then, in August of 1994, Reynolds was hit with extremely grave grand jury indictments: criminal sexual assault, obstruction of justice, and possession of child pornography.
In spite of these indictments, Reynolds managed to cruise to a re-election victory in 1994's general election. However, on August 22, 1995, he was convicted on many criminal counts that involved having sexual intercourse with a minor as well as obstruction of justice. When Democrats began to call for his resignation, he finally gave in on October 1, 1995.
The former congressman spent more than two years in prison, but his sentence was commuted by President Clinton in 2001 before he left office. Reynolds was in prison for unrelated federal charges involving campaign and bank fraud at the time.
Today, Reynolds is looking to get his old seat back. He announced his candidacy at the end of November in a special election to replace Jesse Jackson Jr, but he will face an uphill battle.
His sex crime conviction will hinder his bid for the congressional seat. Fellow Democrat, Debbie Halverson, expressed shock at Reynolds' boldness and communicated a belief that congressional members should be honorable. Halverson is also a candidate in the special election, which is set for February 2013.
As a former congressman, however, Mel Reynolds already has valuable name recognition. He has deep roots in Illinois' second congressional district, which includes Chicago's south suburbs. Reynolds also worked with Reverend Jesse Jackson and the Rainbow/PUSH Coalition as a consultant, which is likely to have considerable influence among voters in the district.