Mayor Bob Filner sworn in at Balboa Park Club, Photo Credit: Blake Bunch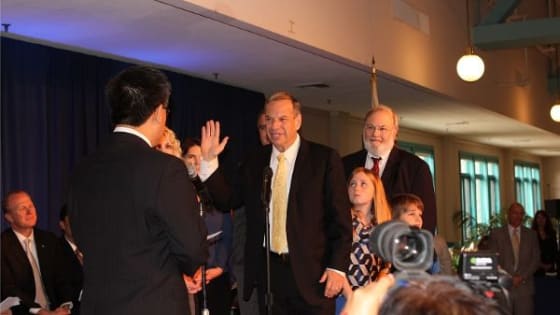 December 3 marked a new wave of local officials with the San Diego city government inauguration. Among the election winners recognized at the ceremony were Mayor Bob Filner, incumbent councilmembers Sherri Lightner, Todd Gloria and Marti Emerald, new councilmembers Mark Kersey and Scott Sherman, and incumbent City Attorney Jan Goldsmith. The event was held at the Balboa Park Club with attendance exceeding maximum capacity.
Councilman Tony Young led the event as the master of ceremonies. He gave recognition to notable local officials in attendance such as Congressman-elect Scott Peters, former Assemblyman Nathan Fletcher, and others. Outgoing mayor Jerry Sanders gave his parting words with San Diego and gave plenty of room for humor. Sanders joked but also later stated what's more important:
Former Mayor Jerry Sanders, photo credit: Blake Bunch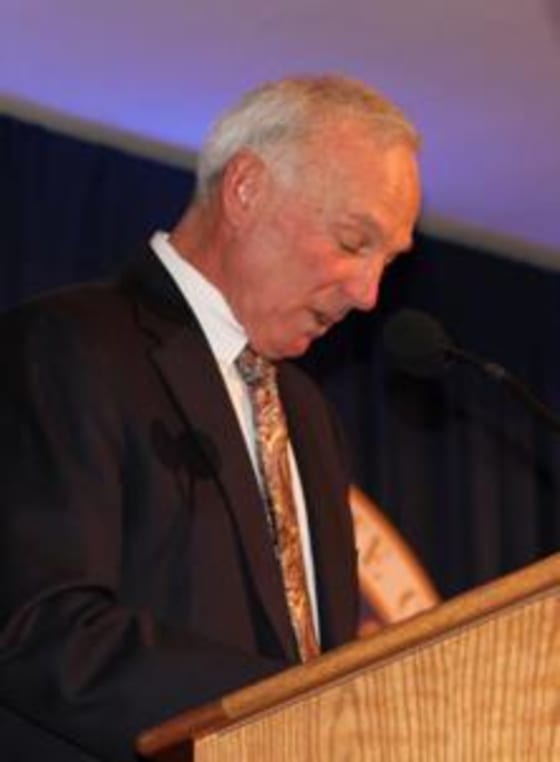 "The two happiest days in a mayor's life are the day he takes office, and the day he leaves it. And knowing what Bob will have to go through, trust me, I'm the happier man." "The inauguration of the new mayor and city council is an occasion to reflect on the fact that while we sometimes have different visions for our future, we all love San Diego and want what's best for it."
With his last remarks as mayor, Jerry Sanders stated, "San Diego has been through some dark days, and it's only because San Diegans worked together to turn things around. It has been a privilege to have served as your mayor." He will assume his new role as CEO of the San Diego Chamber of Commerce following a personal vacation.
California State Controller John Chiang led Bob Filner's oath of office. San Diego's 35th mayor then addressed the city. He continued his message of concentrating on neighborhoods to focus future policy work:
The real heart and soul of our city is, of course, the neighborhoods. They define our cities character. Throughout the long mayoral campaign, they expressed near unanimous frustration with city's neglect for the facilities and services they depend on.
Bob Filner is keeping message about community participation on policy. We will see if there if that holds true in the future, but he stated:
At the end of the day, I want my tenure as Mayor judged not just on what we accomplish, but also on how the decisions are made. You can't build trust and support for City government if just a few people are making decisions for all the rest of us. I want a City government where everyone has a seat at the decision-making table.
Filner also took time to recognize the contentious and close competition he experienced with outgoing councilman Carl DeMaio. Filner thanked DeMaio for, "efforts on reform for the city and making sure our democracy works by not only having a great election but by being gracious as we have a change in administration."
Throughout his address, Mayor Filner outlined the problems of the city he now leads. He defined the condition of city streets, and fire and safety preparedness as "unacceptable" due to lack of funding. But he ended by asking, "Why not ensure that every neighborhood in San Diego is a safe, healthy, attractive place to live, work and play?"
Both city council and mayor are officially non-partisan positions. However, it is the first time San Diego has both a Democratic majority on the council and a Democratic mayor in as strong-mayor form of local government.
Councilman Todd Gloria was selected as new council president later in the day. Both Filner and Gloria will be working together in the coming months as San Diego's two prominent leaders.