SoNo Park Holiday Fest & Chilipalooza 2012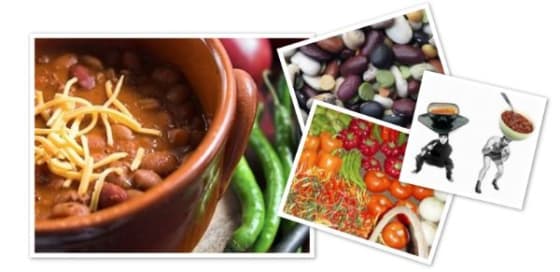 Sunday, December 2nd, chili lovers across San Diego will unite for the third annual SoNo Park Holiday Fest & Chilipalooza at Thorn & 32nd Streets in North Park. With over 150 gallons of chili served and more than 900 hand-thrown ceramic chili bowls, Sunday marks the 16th annual San Diego Ceramic Connection Chili Cook-Off.
In what started as just a cook-off, San Diego Ceramic Connection joined forces with SoNo Park Holiday Fest three years ago in an effort to raise funds for McKinley Elementary Foundation. Growing increasingly concerned about funding for the school, San Diego Ceramic Connection recognized the need for a large fundraising effort. Money raised directly funds music, Spanish, and arts programs at McKinley Elementary school, programs that have been heavily affected by cuts to education.
Simply put by co-chair Steve Cook, "People love chili," making this an event that people can rally around. For just $20, you get a hand-thrown ceramic bowl and 5 tasting tickets. SoNo Park Holiday Fest & Chilipalooza isn't just about the chili, however, and includes a beer garden featuring local breweries from around San Diego, a kid friendly zone with arts and crafts, and 26 local vendors just in time for the Holidays.
With over 25 local restaurants from South and North Park participating, half of the total proceeds will be donated directly to McKinley Elementary Foundation. Hoping to raise over $25,000, Sunday's fundraiser and the efforts of the community at large provide the means for the continuance of the arts program at McKinley Elementary school.
McKinley Elementary has become a "shining example of public schools in San Diego," with increasingly high test scores. The strides being made at McKinley provide a basis for city-wide public education, making the school a model for the community.
While there are many supportive sponsors, the event would not be possible without the efforts of community members and their devotion to the cause. Cook elaborated, the grand scale of the event is only a reality because of the "hundreds of hundreds of hours, 100% of which are volunteered." With a small staff of 20 volunteers who run the show, most of the helping hands come from community members involved in McKinley Elementary in some way. Teachers, parents, and leaders are among those devoting their time, but realtors, business owners, and vendors have also volunteered their time and resources to ensure the success of the event.
Volunteer opportunities are still available during the event and shifts typically run for 2-3 hours. Spend some time giving back to the community then enjoy the festival! For more information about volunteering at SoNo Park Holiday Fest & Chilipalooza, contact volunteer coordinator Stacy at [email protected].
The event runs from 11am-5pm, so make sure to set some time aside on Sunday to support local business, local education, and of course, enjoy some local chili.