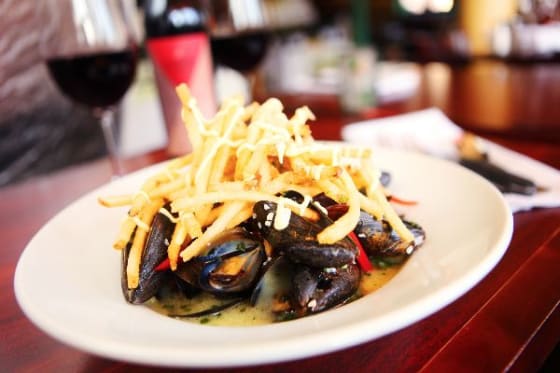 Brunch is an art form. The Sunday meal, which lies somewhere between breakfast and lunch (depending on one's time frame), is a necessary staple for restaurants in San Diego. 3rd Corner Bistro and Wine Shop has three locations, one in Ocean Beach, Encinitas, as well as a third in Palm Desert, California. At the 3rd Corner location in Ocean Beach, they have mastered the relaxed form that is brunch, as well as maintain an extensive wine collection at a cheap corkage fee ($5).
Owner Ed Moore bought the original 3rd Corner Mediterranean Seafood restaurant for square footage purposes, as he was looking to expand Thee Bungalow wine club. Moore had already built the kitchen, but felt it was being neglected. Since he was involved in wine retail, he combined the two to open the original 3rd Corner Bistro and Wine Shop in Ocean Beach.
The Ocean Beach 3rd Corner definitely stands out from the bars and restaurants of the area. Aside from OB Bistro, Bo-Beau, or The Joint, most Ocean Beach establishments tend to stray away from wine retail and fine dining. Though the restaurant maintains a high-end feel, 3rd Corner prices beg to differ. Not to keep with tradition, 3rd Corner serves Saturday and Sunday brunch. Brunch is served from 10am to 3pm, and bills the "almost bottomless" mimosa brunch for $16.95. It's titled "almost bottomless" for good reason, and entails an entree of one's choosing,con pane chocolate bread with cinnamon honey butter, fresh fruit, and champagne.
The brunch menu extends from the duck Machaca to frittatas all the way to the 3rd Corner Burger, which is topped with aged cheddar, tomato onion jam, applewood smoked bacon and tarragon spread on a brioche bun. One rather crucial element to the bistro and wine shop is their hours. 3rd Corner is open from 10am on Tuesdays through Sundays, and stays open until 1am.
3rd Corner Bistro and Wine Shop in Ocean Beach is an affordable brunch spot on Sundays (or Saturdays) to drink some champagne, purchase wine, or eat some fine Mediterranean inspired food. Reservations are encouraged, as the 3rd Corner is a popular San Diego brunch staple.