Chrysler CEO Sergio Marchionne. Photo: MotorTrend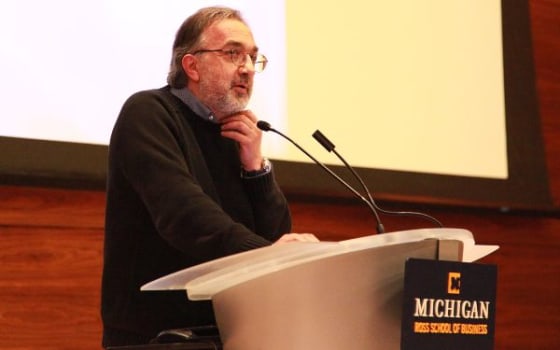 Chrysler Group announced last week that the company's investment in engine production will create 1,250 jobs in Michigan.
At the Mack I Engine Plant in Detroit, Chrysler Group CEO Sergio Marchionne announced that $198 million will be invested in the plant to produce the Pentastar V-6 engine. Marchionne said that this will create up to 250 new jobs at Mack I, "subject to market conditions." According to the Detroit Free Press, 200 workers from the idled Mack Avenue II factory are eligible to transfer to other plants, including to fill the jobs Chrysler announced.
According to a Chrysler press release, the Warren Truck Assembly Plant will also be opening up to new employees with the addition of 1,000 new jobs. These jobs will be producing the 2013 Ram 1500 for March.
Over three years after emerging from Chapter 11 bankruptcy, Chrysler Group LLC was formed from a partnership with the European company, Fiat. According to the release, it has invested close to $4.75 billion in facilities and created nearly 6,000 hourly jobs in the US since then.
"[This] is another important milestone in living up to the commitment we made more than three and a half years ago to our employees, this city, this region and our country to transform this company," Fiat CEO Sergio Marchionne said. "All of these investments are the direct result of a lot of people who have battled courageously to bring Chrysler back to a state of growth. It is our contribution toward helping southeastern Michigan get back on its feet."
An additional $40 million will be invested in the Trenton North Engine Plant to add a flexible production line that can run both the Pentastar engine and the Tigershark I-4 engine. According to a press release, this will give Chrysler the ability to adjust capacity of either part as needed.
US auto sales have increased 13.8 percent this year and, specifically, Chrysler sales have risen 22.5 percent. Michigan residents are confident in Chrysler jobs and have praised company as an employer. Chrysler was named one of the "top workplaces in the state of Michigan" by the Detroit Free Press.
"We are honored and humbled to receive such a meaningful acknowledgment from our employees, validating that Chrysler Group is, indeed, an employer of choice," said Human Resources VP, Nancy A. Rae. "Chrysler Group is committed to providing and sustaining a workplace environment where employees can thrive and achieve world class levels of performance, innovation and success."
Although Chrysler's future was bleak a few years ago, the company is pushing forward in hopes to strengthen itself as a company, the auto industry, and the state of Michigan.