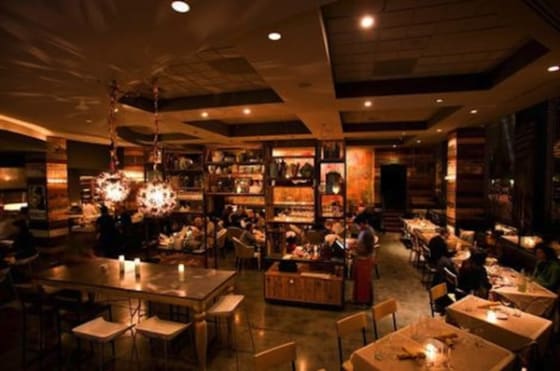 (Banker's Hill) -- San Diego is a tough culinary market to compete in. In a city where, regardless of one's business model, nearly every genre has been tapped - so having original ideas, or perpetuating the classics in a correct fashion is crucial. Cucina Urbana, located in Banker's Hill, has taken a rustic approach to some staples, all the while utilizing unique ingredient combinations to stand out as a fine San Diego restaurant.
Upon entering the establishment, which is simply steps away from Balboa Park, one should plan on staying for a while. There are so many moving facets: a full service bar, a retail wine shop, tables situated for large parties, as well as more personal seating arrangements.
One of many "sister" restaurants under the Urban Kitchen Group, Cucina Urbana has a business model that seems to be working. A relaxed "rustic" atmosphere, extremely personable servers, and fine work from the chefs operating in an open kitchen (always entertaining) makes for a pleasurable dining experience.
Owner Tracy Borkum has done a fantastic job creating an ambience in this locale, with tons of open space. Cucina Urbana, as well as other Urban Kitchen Group restaurants Kensington Grill, and Cucina Enoteca are setting trends for San Diego restaurants in their promotion of local, sustainable protein and produce.The clever use of fence posts recovered from around San Diego county adorn the bar, as well as several other areas of the restaurant is a nice touch as well. The restaurant business in not all the Urban Kitchen Group involved in, as they have a catering company that bears the same name.
Wine comes first, and is paired with several different types of bread, butter, and garlic olive oil. Since it is an open kitchen, one can watch as the chef operates the stone pizza oven, of which Urbana has found some interesting combinations for pizza. Figs are not often thought of as something that would top a pie, unless it is dessert, but Chef Joe Magnanelli's fig and gorgonzola pizza ($14.50) is a delightfully unlikely treat. The pork  belly BLT ($11.50), served with a garlic aioli, and summer vegetable and mezze rigatoni ($13.50), with a choice of shrimp or chicken (up charge $8-5 respectively) are also a great choice.
Cucina Urbana extensive wine selection could be overwhelming at first, as they have wines from all over "the Americas and the Mediterranean." Luckily the servers are extremely knowledgeable in this field, and guests are invited to select a bottle from the wine retail (with a $8 corkage fee). Two key elements that set Cucina Urbana apart from other restaurants, is that they allow guests to bring in their own bottle of wine, as well as take bottles to go.
This San Diego "California inspired Italian kitchen" is an ideal location for wine lunch, where the servers hardly let your cup dwindle, or a nice dinner and stroll to Balboa Park.