Credit: Dave Granlund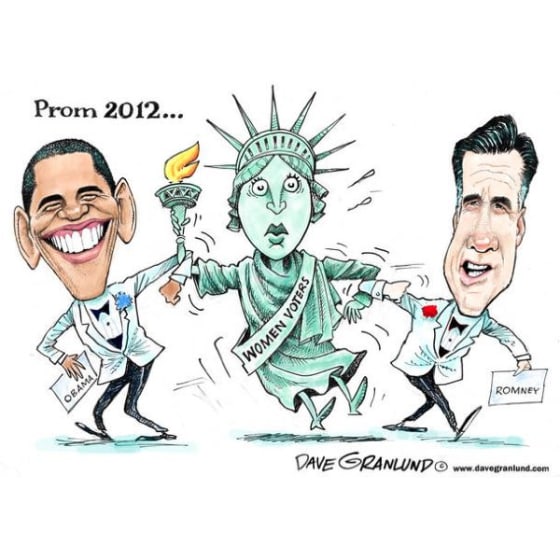 As the final day of the 2012 election cycle works American politics into a heated frenzy, a final Gallup poll (tracking opinions from November 1-4) finds the American public divided between Romney's plans for the economy and Obama's Medicare plans, as well as his ability to handle foreign diplomacy. The poll results remain close - even, in fact - and reflect the tense, competitive atmosphere this election has had in its entirety.
President Obama:
The poll finds Obama, leading favorably with 52 percent of women voters, as well as commanding leads with non-white, low income, the younger generation, the non-religious, and voters living on the East Coast. The rest of the nation is closer, with a four to ten percent difference. Obama's twenty percent lead in the East is tied to the public support of his relief efforts in the aftermath of Hurricane Sandy.
A more surprising result of the poll is the approval for Obama's heavily contested Medicare plan. Half of the people polled viewed Obamacare favorably, while 49 percent believed that Romney is better suited to handle healthcare. Despite the opinion that Obama's performances during the debates were lacking, it would seem that he was able to successfully defend his healthcare policies.
For the Obama camp, the most troubling result of the poll is public perception of his foreign policies. While the majority of Americans agree that President Obama would "better handle" foreign affairs in comparison to Romney, his disapproval rating for his policies sits at 51 percent. His response to the attacks on the consulate in Benghazi continues to hurt his ratings.
Governor Romney: 
Regardless of the criticism aimed at Obama and his inability to mitigate the unrest in Libya, Romney remains behind in his perceived ability to handle foreign affairs. Unsurprisingly, Romney is viewed as being better suited to successfully simulate the country's lack luster economic growth. With disapproval for Obama's economic management at 56 percent, Romney has successfully cultivated his image as an accomplished businessman. Faith in his ability to effectively handle taxes, the economy, and combat the federal budget deficit all surpass his political opponent.
Romney holds his edge with 53 percent of American men, as well as with the white population, elder generations, and non-Catholic Christians. Romney's claims of bipartisanship while serving as the Massachusetts Governor has swung public opinion regarding his ability to work with both parties in Washington.
The End Result: 
The poll question that most mirrors how competitive this election has been is who Americans believe to be the stronger, more decisive leader. The poll found both of the mainstream presidential candidates to be tied at 48%.