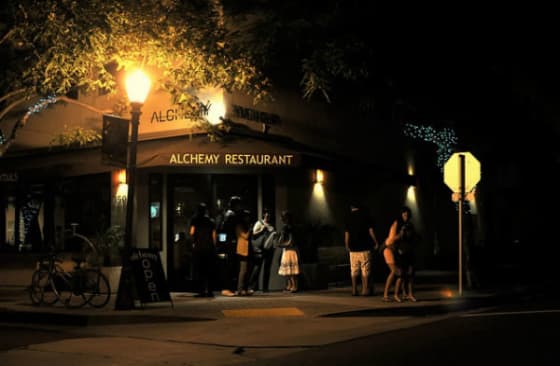 San Diego Beer Week has taken this city over. Every day/night entails events throughout America's Finest's countless restaurants, bars, and breweries. Alchemy Cultural Fare, located in South Park San Diego, is participating in San Diego Beer Week, and has been serving up craft cocktails since 2009.
Ron Troyano has been the managing co-partner since Alchemy's establishment, and is a graduate of San Diego State University. Troyano worked in advertising after college, and collaborated on several art galleries in San Diego before commencing his career in the service industry.
During San Diego Beer week, Alchemy is serving up beer + bacon on a nightly basis. Executive Chef Ricardo Heredia has put together a bacon based menu that will be paired with local craft beers all week.

The beer + bacon nightly menu entails one or two items that will be offered with  suggested beer pairings:
1. Bacon baklava - honey, phyllo, walnuts
2. Bacon crack - lavash cracker, brie, bacon wrapped
3. Bacon Truffles - meat ball, mole, bacon coated
4. Bacon poutine - thick cut fries, brown bacon gravy, pork belly carnitas, lemon cheese curds
This will a scrumptious bacon and beer experience for all participating in San Diego Beer Week. With over a week's worth of events to go, surely much more of the ancient beverage will be praised in a truly west coast fashion.
//