From left to right: Rhea Stewart, Rick Cassar, Nancy Orr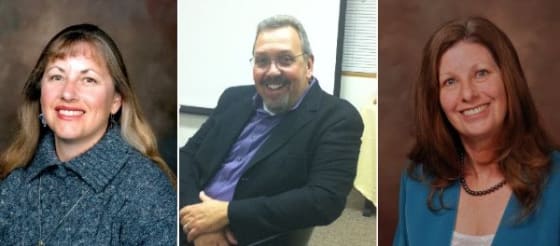 The Cardiff School District is comprised of two schools: Cardiff Elementary, a K-3 school, and Ada Harris Elementary, a 3-6 school. Students usually move onto Encinitas Union schools for middle and high school. The Cardiff school board has five trustees elected to four-year terms. This November, two seats are up for election and three candidates are competing.
The three candidates are incumbent Nancy Orr, counselor and teacher Rick Cassar,  and former Cardiff school board member Rhea Stewart.
Rick Cassar is the founder of Freshman Success, a team of professional mentors and counselors. The group helps high school students in the college transition process. Rick Cassar provides guidance with college applications, financial aid, and dealing with pressures that freshman face when adjusting to college life. He has spent 27 years in education through teaching and counseling. He has also developed a class for San Diego City College, Personal Growth 127, titled Student Success Seminar.
Rick Cassar has a two year-old son who he plans on enrolling in Cardiff Elementary in the future. He is currently a teacher and counselor at Miramar College and started the campuses Behavioral Intervention Team. Rick Cassar served on the SCCCD budget committee.
Rhea Stewart served on the Cardiff School board from 2006 to 2010. She has served on school site councils for Cardiff, Oak Crest, and San Dieguito Academy schools and was president of the Cardiff and San Dieguito Academy Councils.
Nancy Orr is a long-time Cardiff school board member having served 24 years. She served the community through the Encinitas Park Commission and Cardiff's town council. She was a teacher for 29 years, including roles as an instructor and credential advisor at UC San Diego.
Current trustee Andy Brown is not running for re-election, leaving the two seats up for the three competitors. Voters in Cardiff-by-the-Sea will be deciding on the Cardiff school boards next two board members.