Credit: ivn.us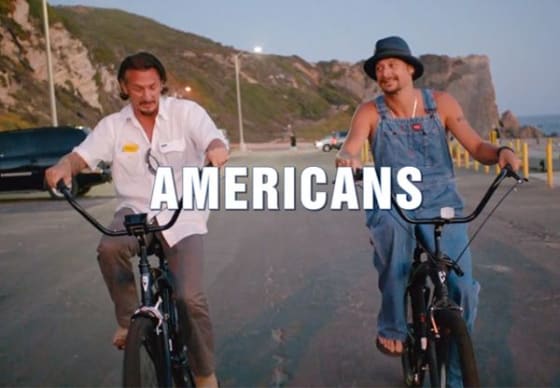 In less than one week, all American people will have elected their 45th President. Half of the country will be unhappy with the result, and more will be disenchanted. The partisan bickering is unlikely to stop. A video casting Sean Penn and Kid Rock entitled "Americans," released several weeks ago, is a great reminder of why, whatever the result is, it should not mater.
Kid Rock is an outspoken supporter of Romney, performing at his rallies and letting the Romney campaign use his song "Born Free" as the campaign's anthem. Sean Penn on the other hand, is well known for his liberal position and for having endorsed Obama in 2008 and 2012.
The two politically opposed figures got together in a short film to raise awareness about the danger of letting extreme partisanship separate this country into clans that are not capable of living together.
A heated exchange occurs between the two characters and is followed by the core scene of the movie. Both are interrupted by the news that 26 marines were killed in Afghanistan passing the tragic milestone of 2,000 dead in that war. At that moment, all the differences between them become trivial. Being Democrat, Republican or Independent does not matter when the country faces a tragedy.
In the aftermath of hurricane Sandy on the East Cost, leaving more than 50 dead, millions without electricity, and devastated regions, America needs to follow this attitude and have time to reflect. But, as Election Day is less than one week away, the campaigning machinery which is already back on track will not allow it. As each side is already accusing the other of using hurricane Sandy for political gain, the campaign will likely get even uglier, denying the usual unifying effect of a natural catastrophe.
This video was made to make sure all American people would not forget that what makes the United States a great country is that it is made of different people with different ideas that have been able to live together and strive together for more than 200 years. On November 7th, "we the people" will have elected a new President, a President for all Americans and the best way to celebrate should be not to "let politics divide us."
http://youtu.be/oSQJ2ULuhb8