The view from the ferry  of the downtown San Diego skyline.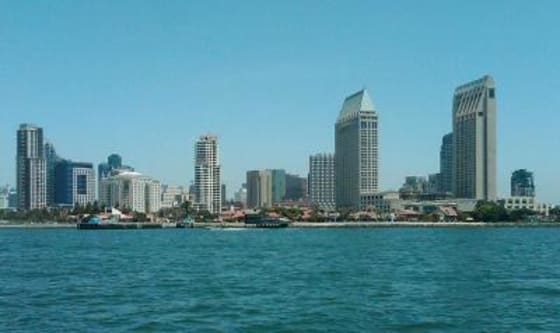 The trip lasts a mere 15 minutes one-way. But a ride on the quaint San Diego-Coronado Ferry is a relaxing respite that turns out to be functional for both tourists and locals.
Downtown visitors looking to check out Coronado can board the ferry at the Broadway Pier. Starting at 9am, the double-deck boats leave downtown every day of the week, on the hour. They arrive at the Coronado Ferry Landing in time for a 9:30pm departure back (every day, on the half hour).
The last rides of the day are 9 and 9:30 pm, except on Friday and Saturday, when one extra back-and-forth trip is added.
If you're a tourist staying in one of Coronado's hotels, the ferry can be your slow boat to all that downtown has to offer. Conversely, visitors at downtown's convention properties can escape on the ferry to shops and eateries on Coronado's never-in-a-hurry Coronado Ferry Landing.
The ferry costs $4.25 for a one-way ride (kids under three ride free). For no additional charge, riders are allowed to bring bikes on board. This is how smart downtown residents escape to the ocean. It's easy enough to fill a backpack with towels and snacks, load your bike on the ferry, disembark and pedal just a little over a mile to the family-friendly, nationally ranked beaches of Coronado.
Plan your time in the sun and surf to coincide with a ride back to the ferry, which, like clockwork, leaves the Coronado landing on the half hour. On the gentle ride back downtown, smile as you glance over at sea lions sunning themselves on orange buoy markers scattered across the bay.