Photo: New York Times Interactive 2008 Election Map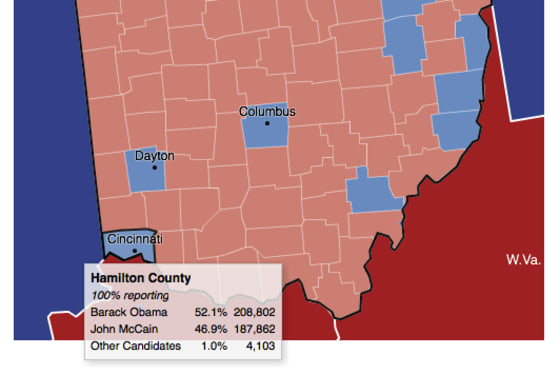 In this video, Fox19 Cincinnati's Ben Swann explains how just one county in Ohio, Hamilton County, could determine the entire presidential election:
FOX19.com-Cincinnati News, Weather
Home to Cincinnati, Hamilton County is a swing county that Bush carried in 2004 and Obama carried in 2008. As Swann points out, each cycle's winner received over 200,000 votes from Hamilton County. A look at the New York Times' interactive election results map shows that both times, the voters each winner picked up from Hamilton County alone were greater in number than the winner's margin of victory, meaning that voters who turned out for the winning candidate in this county helped their candidate pick up the state of Ohio.
Depending on how the election map looks on November 7th this election cycle, Ohio's 18 electoral votes could be enough to tip the scales if the race is a close nail biter.
Swann concluded by urging viewers regardless of party affiliation to vote in Ohio, and assuring Ohio's supporters of third party candidates that their vote will not only not be wasted if they turn out, but will count for more with all eyes on Ohio.
(The latest poll has Obama up by 5 points over Romney in Ohio.)