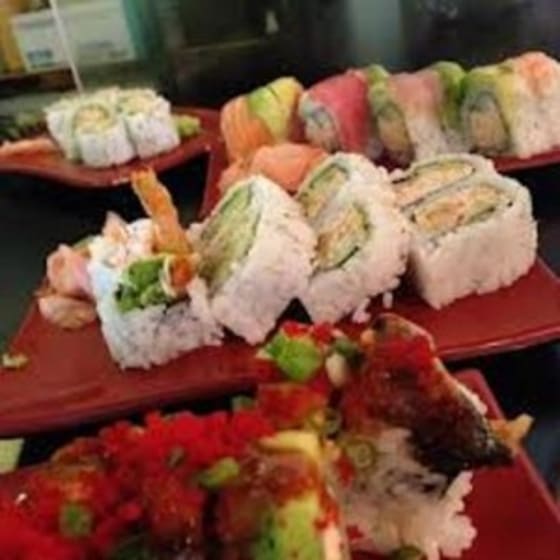 Sushi is one of those food genres that strikes a chord with most San Diegans. Behind where has the best (or cheapest) tacos, or one's quintessential neighborhood restaurant and bar, where to find the best sushi is of much discussion. From its humble beginnings in 1983, the Sushi Deli of San Diego has expanded to three locations around town: Sushi Delis 1, 2, and 3.
Sushi Deli 1 is located on Washington Street in Hillcrest, and like all Sushi Deli locations, is typically packed (good sign of what's to come). An especially cozy location for the residents of Hillcrest, Sushi Deli 1 is offers nigiri, rolls, sushi combos, small plates, platters, and reasonably priced craft cocktails (at dinner). The Hillcrest sushi joint is open for lunch from 11:30am-2:30pm for lunch on Monday-Thursday, 11:30am-4pm on Friday, and 12pm-5pm on the weekends. This is a great spot to meet with clients and friends for lunch, but dinners at any of the Sushi Delis are the main draw. Dinner on Monday-Thursday is served from 5-9pm (as well as on Sunday), 4-10pm on Fridays, and 5-10pm on Saturdays. Try one of their combos - the Shogun in particular - which entails 8 pieces of rainbow roll, and a choice of nigiri.
Sushi Deli 2 calls central downtown San Diego home, and is located on Broadway Avenue.  Keeping everything uniform, Sushi Deli 2 offers the same menu as Sushi Delis 1 and 3, but does offer "lunch to go," which offers everything from Teriyaki chicken bowls to take home rolls. During the week, Sushi Deli 2 serves lunch from 11am-2pm, and dinner from 5-9pm. On Fridays, they are open from 11am-10pm, and 12-10pm on Saturday and Sunday. The largest of all the Sushi Delis (seats 90), it can be expected for one to wait in line for a little bit - but it is completely worth the wait.
Not to place a rank with corresponding number, Sushi Deli's newest location, Sushi Deli 3, is located at  Armour Street about a minute off of the highway in Clairemont. Stop for happy hour if you are in the Clairemont area, or simply to get out of a horrendous day of traffic on the I-5. Happy hour at all Sushi Deli locations goes from 5:00-6:30pm, and entails all beer being fifty percent off. Although a relatively succinct happy hour time frame, the available deals are perfect since sushi is a quick food to prepare.
It is impressive how quickly such a good thing starts to trend. Having opened in 1983 as a sandwich shop, the Sushi Deli is the antithesis of a chain, and truly local. No matter where one is situated in San Diego, surely there is a Sushi Deli location nearby.