Congressman Dan Lungren. Photo: Gage Skidmore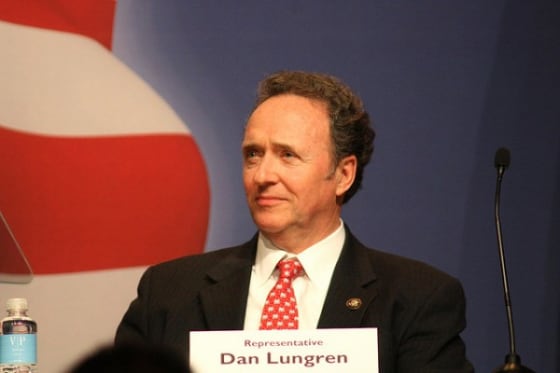 The top five most partisan members of California legislature have been major players in their respective parties. By playing to the partisan divide, these individuals have prevented California from becoming more independently minded and have seemingly stunted progress.
The negative effects of partisanship are not novel concepts to most Americans. Oftentimes it will polarize the electorate and stonewall third parties.
 put it, "We love to criticize , and we love to claim we've transcended it. We recognize it in our enemies but not in ourselves. We use it to discriminate against others. And increasingly, we find sophisticated ways to mask it in a veneer of open-mindedness."
As Slate Magazine writer Shankar Vedantam
While individual opinions may vary, these five representatives have a record of standing firmly beside their respective parties. The criteria for ranking these public officials was determined by their voting records, public opinion, and involvement with, or being targeted by, partisan organizations.
In no particular order the top five most partisan members of California legislature are:
Dan Lungren 
As a tea party member, Congressman Dan Lungren has been at the forefront of the "extreme right-wing" agenda and representsCalifornia's 3rd District. 93.3% of his votes since 2005 have reflected those of the majority of his party. He has been targeted by groups such as the CREDO Super PAC for being  one of the "worst congressional extremists." Lungren has been the target of many attack ads and a town hall meeting he attended in August was picketed due to his "extreme" views.
Nancy Pelosi
As Minority Leader of the house, Congresswoman Pelosi, of California's 8th district, is the leader of the liberal Congress. According to a Rasmussen Report, she is one of the most disliked leaders of Congress.  She has voted along party lines 92.1% of the time since 1990. The  Blue Dog Democrats are threatened by Pelosi's power to appoint allies to top party posts because they believe she leans too far left. She was the key player in getting the House to pass Obama's 2010 health care legislation with little to no Republican support.
Doris Matsui
Democratic Congresswomen Matsui is responsible for California's 5th district. She had voted with her party 97% of the time since 2007, more than other California representatives. She is a member of the exclusive House Energy and Commerce Committee and most recently attempted to block the Republican budget reconciliation bill. She is a proponent of clean energy and has invested $280 million dollars worth of federal funding for green energy projects, her republican counterparts believe the money should be focused elsewhere.
Lois Capps
The Representative for California's 23rd congressional district, Lois Capps voted with the Democratic party 95.6% of the time sine 1998. She was caught in a scandal involving her failure to report over $500K on her disclosure forms, lowering her public trust. Capps has been targeted for her stance of healthcare issues. She is has been an active supporter of the Affordable Care Act, a divisive issue among Republicans and Democrats and a GOP ad claimed she supported the "most extreme plan on Medicare".
Kevin McCarthy
As a fairly new member to Congress (since 2007), McCarthy is already the House Majority Whip, the third-ranking Republican in the House. McCarthy votes with his own party 96.3% of the time. Bipartisan groups pushing the farm bill have become frustrated with McCarthy for stalling its passage in conjunction with John Boehner (R-Ohio). He also co-authored  "Young Guns," with  Republican vice presidential nominee, Rep. Paul Ryan and House Majority Leader Eric Cantor which Vice President Joe Biden took aim at on Thursday.