Credit: Hess Brewing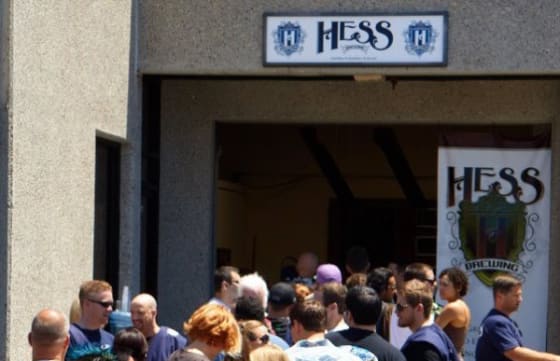 San Diego is home to many breweries from large to small and plenty of great places to drop in and have a beer. For the past several years one has stood out personally as a blend of both that is for everyone in San Diego. Hess Brewing was San Diego's first nano-brewery, brewing small hand-crafted batches of fifty gallons.
Hess Brewing operates out of a industrial garage tucked away in Mira Mesa where the brewery has crafted all of their beer in a small space. Within the last month they have doubled their space and are working on a separate brewery in North Park.
Hess Brewing beers have a distinctive creamy texture and rich flavor. Make sure to try the Claritas, their Kolsch with a crisp Pilsner-malt base, lightly hopped with Noble hops. On a hot day ask one of the Mike's to pour their honey orange wheat ale, Jucundus.
What makes Hess Brewing a favorite in San Diego is their open door on Friday afternoons. Beer fans from across San Diego are able to drop by the brewery after work for a quick beer and enjoy the food truck that is pulled up on Friday afternoons.
One can meet a lot of friendly people, play catch with a black lab, have a bite to eat, and enjoy some of the best beer in town.
On Saturday, October 20 the brewery is hosting Oktoberhess from 1-6 with music from the "Ass Pocket Whiskey Fellas" an Irish traditional, country, bluegrass, and rock band along with food from Ranchwood Deli.
If you can't make it this weekend drop in on Halloween from 4-8 featuring special Halloween inspired cask ale, food from Kumpir and It's a Dog's World, music, and costume contest.
Hess Brewing is currently located at 7955 Silverton Ave, Suite 1201, San Diego, CA 92126 and their tasting room hours are Wednesdays 2pm-7pm, Thursdays 2pm-7pm, Fridays 1pm-8pm, and Saturdays 1pm-7pm.