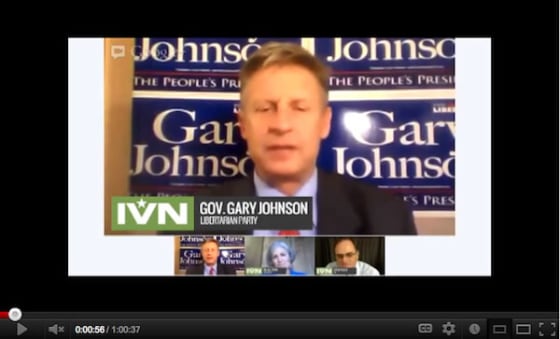 Libertarian party presidential candidate Gary Johnson and Green party presidential candidate Dr. Jill Stein participated in the first online presidential debate conducted by IVN.us and moderated by the head of the Foundation of Independent Voter Education, Steve Peace. Both candidates delivered substantive arguments instead of the usual political talking points that have dominated recent televised debates.
Questions for the online presidential debate were prepared by IVN, as well as sent through Facebook, Twitter, and Google +, making it a very interactive and inclusive event.
For the most part, Gary Johnson and Jill Stein agreed with one another on many critical issues including the Wall Street bailout, education reform, ending the drug wars, preventing military intervention in Iran, and effectively ending the war in Afghanistan.
They did, however, disagree on the prioritization of certain issues for America. Dr. Stein said that the environmental crisis was the biggest threat to America's future, whereas Gary Johnson referred to big government and the erosion of civil liberties.
Foreign Policy
The candidates varied regarding their outlook on American military pursuits. While Stein said she could not envision any current foreign conflict that would require American military intervention, Johnson retorted, "Never say never." He described situations that could result in a large-scale loss of life as potentially legitimizing military force overseas. He highlighted, however, that we should do everything to prevent garnering more enemies by our actions.
The Economy
In regards to employment and taxes Gary Johnson said that the income tax and business tax should both be abolished. Those taxes should be replaced with a single fairness tax and by doing so many companies would want to do business in the US, thus creating millions of new jobs.
Jill Stein spoke extensively on her Green New Deal, which emphasizes job creation through alternative energy projects. Dr. Stein claimed her plan would create four million new jobs in the first eight weeks of her administration. This would include jobs in the education, agricultural, transportation, and green energy sectors.
Additionally, both Johnson and Stein made it clear that they believe those responsible for the Wall Street meltdown should have been prosecuted. This is a specific of the financial crisis that is, expectedly, not talked about by the mainstream candidates. The mainstream notion is that banks were "too big to fail" and had to receive bail out money in order to keep the economy afloat. Johnson and Stein disagree with this position, and emphasized that banks should have never received this kind of special treatment.
The Debate Commission
Importantly, both candidates were critical of the Presidential Debate Commission, which Dr. Stein called the "Commission to Censor Debates." Jill Stein and her vice-presidential candidate Cheri Honkla were arrested at the entrance to the second presidential debate on Tuesday, after trying to reach the venue.
Gary Johnson has filed a lawsuit against the Presidential Debate Commission, which is controlled equally by the Republican and Democratic parties, for their refusal to include him in the debate series. Currently, the Presidential Debate Commission requires a candidate to have a minimum of 15% support in national polls, a standard that is very high compared to the requirements previously set by the former debate-organizers, the League of Women Voters.
Education
Johnson said that he would abolish the Department of Education, as he believes it has been a failure to America's youth. In line with the Libertarian adverse stance on big government, Johnson said he would leave education up to the states. He said that many "laboratories" of education would produce better results than one, overseeing entity, which does not take into account American nuances.
Stein pointed towards the economic benefits of reforming education, citing a study that claimed every dollar invested in higher education produces a 7 dollar return to the economy.
The most striking aspect of the online presidential debate was the level of civility in conversation. Both candidates offered a detailed, informative look at their politices, rather than the biting rhetoric voters are used to. In addition, the inclusiveness of voters to the discussion via social networking was very valuable to the event. Despite some minor technical glitches, the debate could set the tone for other alternative debates and, hopefully, for all debates in future election cycles.