Greg Koch at San Diego Entrepreneur Day.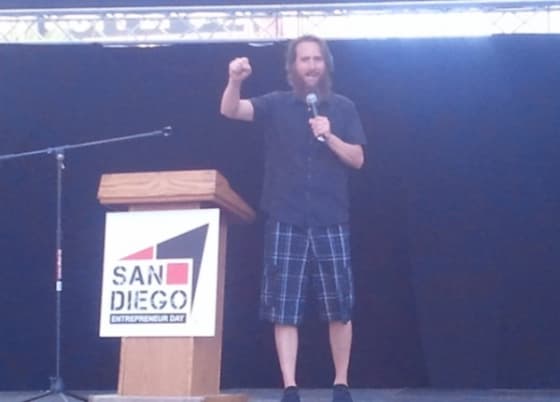 Stone Brewing Company founder Greg Koch was asked recently to speak at the inaugural San Diego Entrepreneur Day. He stood on an outdoor stage in East Village looking like a skinny mad scientist, sporting a long, dark "ZZ Top" classic rock beard.
He raised his fist in the air and addressed the audience: "So, everybody who believes beer doesn't have to be yellow and fizzy, let me hear a 'hell, yeah'!"
"Hell, yeah!" yelled most of the crowd.
It was fitting that organizers asked Koch (pronounced: "cook") to be a part of an assemblage of local entrepreneurs. Out of the box? Hell, yeah. His company, persona and product are far from prototypical.
Stone beers are more bitter than most. Before craft beer became as trendy as it is today, Koch vowed to make the product his own way – damn the taste of the mainstream.
Some history first. Stone Brewing Company was founded in 1996 in San Marcos by Koch and Steve Wagner. They immediately unveiled Stone Pale Ale, and the next year unleashed Arrogant Bastard Ale onto the public.
Currently based in Escondido, the company has amassed a variety of accolades, as production went from 400 barrels the first year to a projected 180,000 barrels in 2012.
They were on the San Diego Business Journal's "Fastest Growing Private Companies" list seven years in a row (2004-10), and made a similar national list by Inc. twice (2002-03).
Stone is distributed in 36 states, and is today currently ranked the 11th largest craft brewery in the United States.
The Stone Brewing World Bistro & Gardens restaurant opened in November 2006. That Escondido venue is both a beauty and a behemoth. Talk about vision: Bugsy Siegel built the Flamingo Hotel in the middle of the desert and it grew into the Las Vegas of today; Koch created the World Bistro & Gardens in Escondido and now it's the third most visited attraction in North County. Next year, a Stone hotel is slated to open its doors across the street from the mega-restaurant.
While the company continues expansion plans, Koch has no notion of changing into a buttoned-down CEO. He lives downtown part-time and loves to take the bus to outings, has been seen in bare feet at cocktail parties and doesn't appear eager to take a razor to that beard.
And he'll always firmly believe that "fizzy yellow beer is for wussies."
(IVN contributor Ron Donoho is a veteran San Diego magazine editor who currently operates the downtown-centric website SanDiegoBugle.com.)