Credit: Communicating Ideas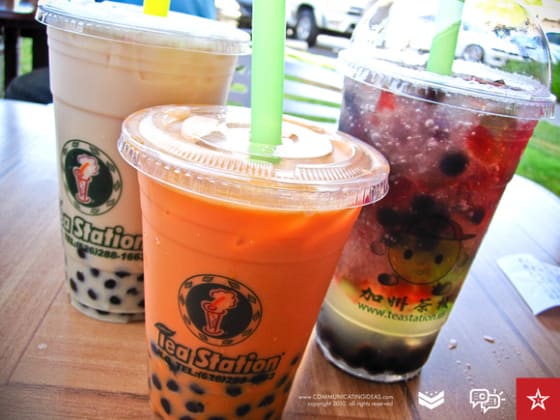 Combining traditional Chinese hot teas, a wide variety of boba, and Taiwanese Xiaochi (literally "small eats"), Tea Station provides a laid-back atmosphere to pick up a quick drink or sit and enjoy a taste of Taiwanese cuisine.
Xiaochi is the Chinese equivalent to the Spanish Tapa, food that isn't typically made at home but served at street markets or small restaurants. The rising importance of this type of meal in Taiwan represents the mix of cultural influences found on the island, creating the unique blend of Western flavors with traditional Chinese and Japanese dishes. Tea Station presents these dishes in the form of Tea-flavored meals, snacks and soups, like their breaded spiced pork chop or the beef stew with noodles. The meals come with three  small side dishes, in addition to a bowl of rice and miso soup.
Tea Station, living up to it's name, also offers an impressive selection of hot and cold tea, as well as boba and shaved ice.  Another pleasant choice is your ability to choose how much sugar you would like to have in your boba. However, if your like me, you'll be excited to see the large assortment of more traditional Chinese hot teas such as pu-erh, oolong and dragonwell green tea. Hot tea is important to the Chinese diet and meals because it helps your stomach with the digestion of your food.
There are two Tea House locations in the San Diego area, one in Mira Mesa, and another in Kearny Mesa. The walls of restaurants are decorated with the different renderings of chinese character for tea, "cha". The rest of the décor is what you would expect of a Chinese tea house, featuring a calm and laidback atmosphere. The biggest setback for the restaurant comes with the limitations placed on payment, there is a minimum purchase of $3.50 for each costumer and a minimum of $10 if you are going to charge the meal to your credit card. The food itself, is on the pricer side, however, with quality tea and boba, Tea Station is definitely a restaurant to stop by and cure your for fix of Chinese food by trying something a little different.