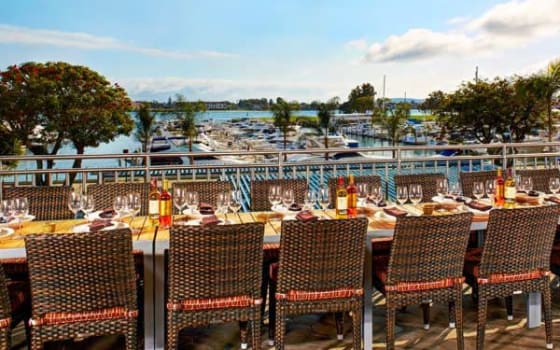 Looking for a great spot to have a Sunday brunch in San Diego? Look no further, Marina Kitchen has a great balance of food, drinks and environment.  Located in the Marriott Marquis, San Diego Harbor, the restaurant provides a taste of Modern American Cuisine as you overlook the tropical pool and waterfalls along with longing views of the harbor and marina nearby.
The Marina Kitchen provides multiple diverse sitting areas to accompany any brunch goer's fancy.  Patrons can choose from the media lounge, an outdoor lounge, private dining or a kitchen bar with multiple TV's to take in the best of Sunday Morning Football.  For a memorable experience, choose the outdoor lounge where you can take in the harbor breeze with views of the marina as the sun rises and glows from the horizon.
For your taste buds, look no further than the buffet.  It has six different stations: bread station, a cold station, an egg station, a cereal station and an area of traditional and specialty items.  A freshness of made to order items including specialized omelets, dim sum and bagel with lox, unlimited coffee and juice makes this brunch a must go on Sunday mornings.
Follow them on Twitter. Tell them your coming!
//