Credit: Dailykos.com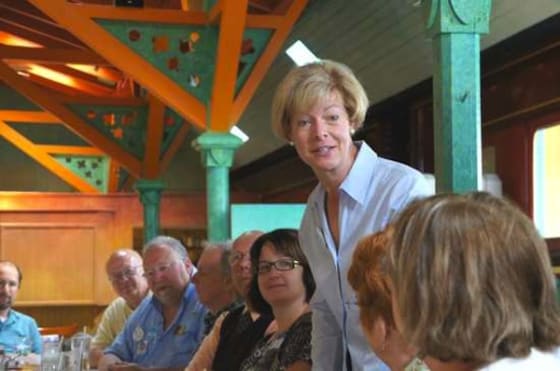 A new Marquette University Law School poll shows Democratic US Representative Tammy Baldwin with a nine percentage point lead over former Governor Tommy Thompson (R) in the US Senate race in Wisconsin. The statewide poll marks a complete turnaround from March, which had Thompson at a nine point advantage.
Baldwin and Thompson are competing for the senate seat left vacant by Democratic Senator Herbert Kohl, who announced his retirement in May. The open-seat race is bound to be one of the most hotly contested in the country, which makes independent voters crucial in Wisconsin.
In the wake of Governor Scott Walker's successful attempt to defeat a recall vote, Wisconsin is once again at the center stage of the political arena. Although Democrat-leaning since 1988, the battleground state holds the potential to shift not only the balance of power in the Senate, but the 2012 Presidential Election as well.
The US Senate is currently controlled by a 53-47 Democratic majority. The state's 10 electoral votes are also crucial for Romney in his bid for the White House. A controversial union bill and a Chicago Teachers Union strike in neighboring Illinois may have major implications as to which way independents will sway the state.
"Which state are we?" Thompson was quoted in NPR, "Are we the 14-point Obama state of 2008, in which case I think on the Senate side Baldwin is very competitive? Or are we the strong Walker state of 2010 and in the recall this year, in which case it's a much stronger position for Republicans?"
That seems to be the million dollar question as the pendulum continues to swing wildly between both sides. In a similar poll, independents now support Baldwin over Thompson by a 50-38 margin. In August, they favored Thompson 47-37. On a national level, independents now favor President Barack Obama 53-38, up from the 45-43 margin in August. The ability to harness that momentum seems dependent on which party is better able to gain independent support at any given time.
As of late, Obama holds leads in key battleground states: Ohio, Virginia, Colorado, North Carolina, Pennsylvania, and Wisconsin. It will be critical for both the president and Baldwin to retain the independent vote in November if they want to be reelected.